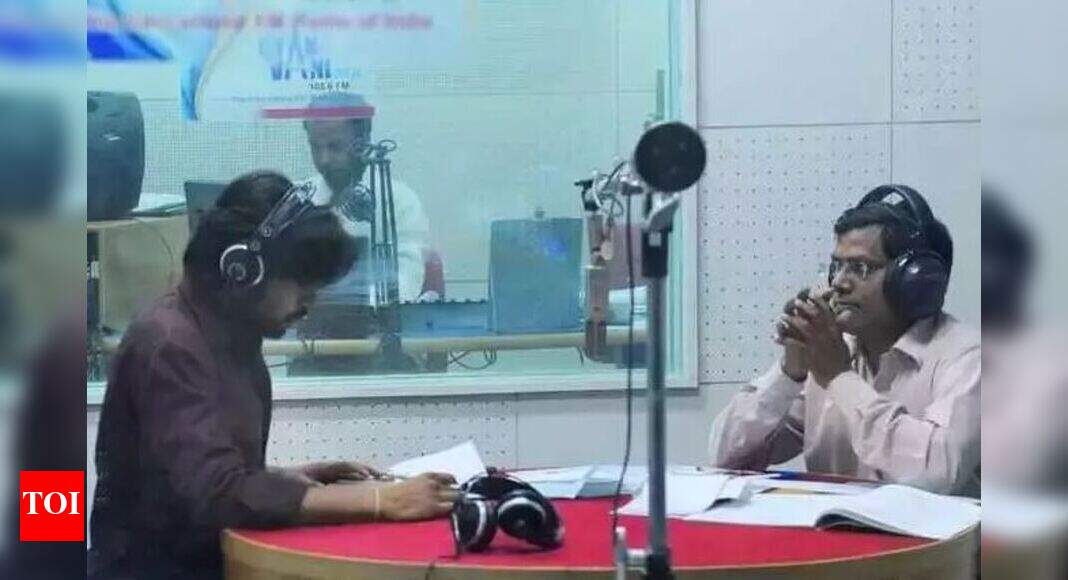 NEW DELHI: Several radio jockeys (RJs), announcers, presenters and comperes of All India Radio (AIR), who have been rendered jobless ever since lockdown was imposed in March last year in the wake of Covid-19 pandemic, have strongly refuted the Prasar Bharati's claims that no station under it has been closed anywhere in any state.
On Wednesday, public broadcaster Prasar Bharati issued a press statement in a bid to clarify that no AIR station has been closed anywhere in any state. "Taking a serious note of the false reporting and fake news claiming closure of AIR stations by various media outlets across India, Prasar Bharati has made it clear that these reports are baseless and factually incorrect. Prasar Bharati has further stated that no AIR station is being downgraded or converted anywhere in any state or union territory. Also all AIR stations will continue to patronise local programming in line with linguistic, socio-cultural and demographic diversity furthering the mission of AIR to nurture local talent," it said.
However, the RJs, presenters and comperes are not convinced with Prasar Bharati's claims. They told the timesofindia.com that the public broadcaster's statements were not true.
Shabnam Khanam, a presenter with the External Services Division (ESD) of AIR and general secretary of All India Radio Casual Announcers and Comperes Union (AIRCACU), said, "Clarification by Prasar Bharati is a blatant lie. Hindi service of overseas wing is no longer available on short wave and, therefore, it is not available for persons of Indian origin (PIOs) in Mauritius, Fiji, the Gulf, Africa and Nepal. India has no English broadcast for the world community today as the English short wave transmission of ESD is closed."
Sanjeev Agnihotri, a casual RJ with AIR's FM Gold (101.1) and general secretary of AIR Broadcasting Professionals' Association (AIRBPA), said if it was true that no channel has been downgraded or converted, as claimed by Prasar Bharati, then the authorities must be asked why FM Gold was converted to 24-hour news channel during the complete lockdown period.
"FM Gold was resumed on December 31 last year but it is still not back in the original format. Before lockdown, it was an infotainment channel. But now most of the time news programmes are being broadcast. Before lockdown, the casual RJs of FM Gold were assigned duties but after March 2020, all of them are waiting to resume their duties. AIR is utilising the services of only the regular announcers," he said.
Agnihotri further said the programming format of FM Gold has also completely changed. "The spirit of FM Gold has been altered. If it is in the original format, then duties of the casual RJs should be resumed," he said and added that the clarification by Prasar Bharati was an eyewash.
Mahesh Sharma, a presenter with AIR in Kurukshetra, Haryana, and vice-president of AIRCACU, said, "The developments since lockdown have proved that the public broadcaster, which is known as a cultural ambassador of the country, can also fail when it becomes subject to official and political ambitions."
Sharma was of the view that it was necessary to dedicate AIR to the artists rather than the authorities. "The government should not stop radio stations. Do not extinguish the hearth of common man's homes in the name of Covid-19," he said.
In another significant development, the Delhi high court has directed the centre to resume all channels, stations, services and units of AIR which were "closed/ stopped/ discontinued during Covid-19 pandemic and the ensuing lockdown, with immediate effect".
Giving its orders on December 9 last year in a public interest litigation (PIL) filed by AIRCACU, the high court further said, "Directing the respondents to compensate all the contractual casual announcers/ Radio Jockeys/ presenters/ comperes serving in AIR's stations/channels mentioned in Para 38 of this petition, and those closed in the six months, for the loss of work and wages they suffered since the closure of their channels/ stations/ services/ units."
Hundreds of jobless RJs, presenters, announcers and comperes are just hoping that sooner than later justice is meted out to them finally.