Marlins SP Pablo Lopez accidentally made history vs. Braves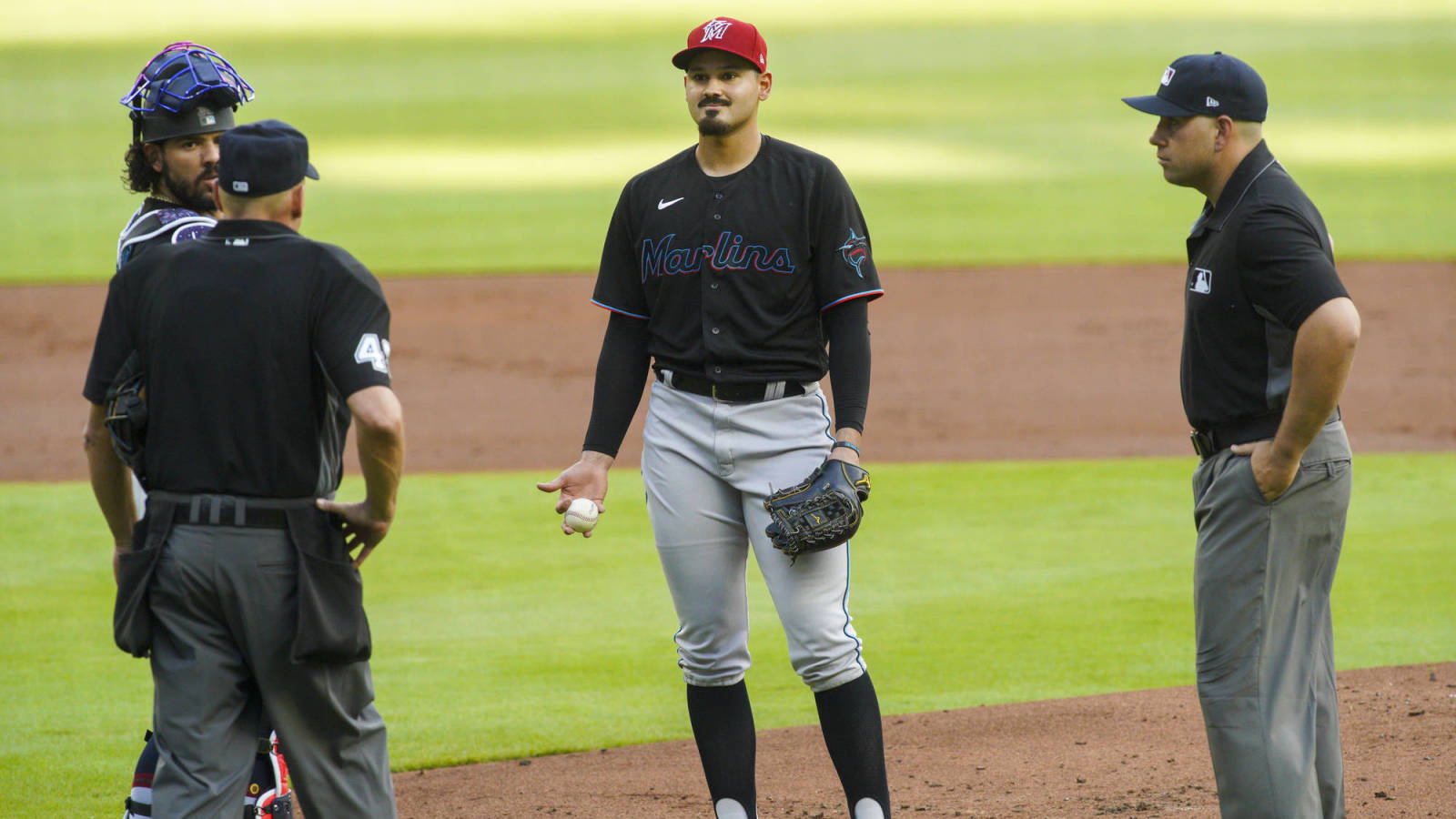 Last Friday, July 2, the Atlanta Braves hosted the Miami Marlins for the first game of a three-game series, with Pablo Lopez taking the mound for the Marlins against Drew Smyly for the Braves. After Smyly worked through a relatively uneventful top of the first inning, Lopez took the mound for what the Marlins hoped would be a long, effective outing. The day before, they used six relievers in an 11-6 win over the Philadelphia Phillies after starter Jordan Holloway allowed five runs in three lackluster innings. The Marlins were counting on Lopez to get their pitching staff back on track.
Instead, Lopez threw just one pitch, a 92-mph two-seam fastball that tailed into Ronald Acuña Jr.'s midsection for a hit-by-pitch.
This was the sixth time in 55 career games against Miami that Acuña had been hit by a Marlins pitcher and the third time it happened leading off the game. The most notable of those was the first one, on Aug. 15, 2018. Acuña had homered in five straight games, including three straight leadoff homers, and he was drilled in the left elbow by a 97-mph Jose Ureña fastball on the first pitch of the bottom of the first inning to break that streak. Benches cleared twice, Acuña left the game, Ureña was ejected and eventually suspended, and the foundation was set for years of drama any time a Marlins pitcher hits Acuña with a pitch.
When Lopez hit Acuña last weekend, again on the first pitch of the bottom of the first inning, Braves manager Brian Snitker was fired up. He made it clear to the umpires that he'd had enough. The umpires conferred — as they're now mandated to by MLB in such a situation — and a few minutes after the pitch, crew chief Dan Iassogna ejected Lopez from the game even though no one actually thought Lopez intentionally hit Acuña.
Ross Detwiler came on in relief and allowed a single to Freddie Freeman and a sacrifice fly to Ozzie Albies, and suddenly Lopez had as many earned runs allowed as pitches thrown in the game. Surprisingly, that was it for the scoring that night. The Marlins bullpen threw 7.2 more innings, allowing just one more hit and no more runs, but Smyly and five relievers combined for a five-hit shutout. The result was a 1-0 Braves win, with Lopez the losing pitcher.
I started wondering: How many times has a starting pitcher faced just one hitter and taken the loss in a game? What about throwing just one pitch?
I turned to the internet to find out the answers to those questions. I'll give the short answers, and then we'll dig in to the specifics, because there are quite a few interesting tales to tell here.
Lopez was the ninth pitcher to start a game on the mound, face just one hitter and take the loss. I was a little surprised the number was so low because I realized as I was searching that the 1-0 score was doing a lot of work in my mind. The rules of baseball say a pitcher who allows the first run can take a loss in a 17-16 game, as long as the runs are scored in a particular order. There have been 45 instances of a starting pitcher facing just one hitter and being charged with a run, but only nine of those pitchers became the losing pitcher. In fact, teams are actually 20-25 in those games. Put another way, historically speaking, a team is almost twice as likely to win a game in which its starting pitcher faces one batter and allows a run as the 2021 Arizona Diamondbacks are to win any game.
But I digress. Lopez was the ninth starter to take a one-batter loss, but he was just the second starter to take a one-pitch loss, joining Art Schallock in 1955. There was almost a third, which I'll also tell you about in a few minutes.
First, let's talk about the seven starting pitchers who faced one hitter, threw more than one pitch and took the loss. Because baseball history tends to get more interesting the further back you go, we'll go from most recent to least recent. Get ready for tales of a coach being ejected for trying to steal an umpire's stopwatch, a catcher trying to catch a runner stealing by throwing the ball through his pitcher, an entire team trying to get ejected just so it could have a day off and some of the most beautiful old-timey baseball writing you can imagine!
Starters Who Faced One Batter and Got the Loss