What does it take to transform a house party into an epic dancefest, or a movie night into a theatrical experience at home? The secret lies in the power of a dynamic speaker system with excellent sound quality. And some of the most expensive speakers in the world promise that and more.
With such high-tech audio equipment, equipped with state-of-the-art digital signal processing systems, bass horns, woofers and other exceptional features, you can not just heighten the rumble and thump in your favourite songs but also create an amazing experience for your next get-together.
Additionally, with the popularity of streaming platforms, people are not shying away from investing in good speakers with clear surround sound to enjoy movies and shows. While most home theatres offer a decent sound experience, within the electronics market, there exists a niche premium segment that delivers such an impeccable audio experience that is worth its hefty price tag. These systems often run into hundreds of thousands and even millions of dollars in some cases.
These are some of the best and most expensive speakers that promise the ultimate sound experience
Final Audio Opus 204
Price: USD 450,000
This expensive speaker weighs a massive 800 kg and was developed by the Japanese audio company Final Audio, founded by Kanemori Takai. These were unveiled at the 2013 Munich High End Show.
It incorporates ultra-thin aluminium cones filled with sand. Weighing about 8 g each, they might be feather-light, but these cones help filter out all the unwanted background noise. According to Hablr, the speakers comprise a cantilever and stylus made of a two-carat diamond.
Such is the design, look and size of these expensive speakers that Takai insisted buyers build their houses around them. Hence, if you wish to procure these rare audio equipment, you can consider integrating them into your current set-up or restructuring the space around your existing speakers before buying one.
CAT MBX Powered Speakers
Price: USD 500,000
California Audio Technology (CAT) can customise their expensive speakers to meet all your specifications, and their MBX-powered speakers make the perfect sound system for loud parties and large gatherings.
Measuring 3.6 m in height and weighing about 5,000 kg, these speakers consist of 55 cm subwoofers, 23 cm woofers, 14 cm mid-range speakers and 3 cm tweeters. They are enveloped in 20 cm thick enclosures made out of CAT's confidential lamination process.
While the CAT MBX Powered speakers are initially priced at USD 500,000, the company specialises in delivering customisations, which can significantly push up the cost. With its range of premium offerings and personalised modifications available, the price tag for these speakers could reach up to 16 million. From visible to hidden camouflaged speakers, CAT understands the assignment and makes expensive loudspeakers with the best sound quality and effect.
Audio Infinite Wisdom Grande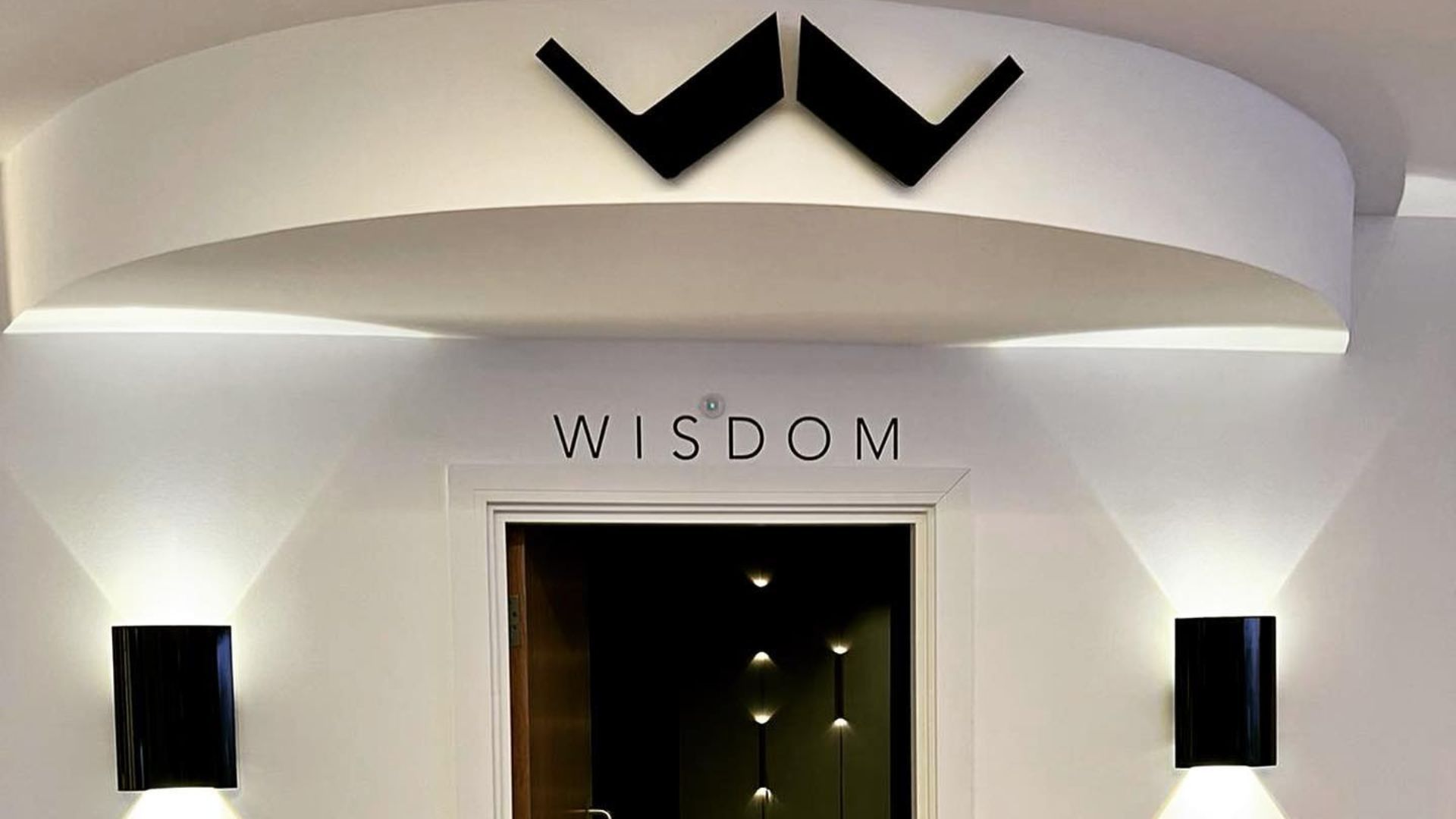 Price: USD 700,000
The Audio Infinite Wisdom Grande is one of the most expensive speakers that will steal the show at any house gathering. From the premium house of Wisdom Audio, the ultimate home theatre weighs a massive 1,723 kg and comprises three stacked planar-magnetic arrays and 2.4-m-tall subwoofers.
According to CNET, the manufacturers claim to generate sound pressure levels more than 120 dB. But, what takes things a notch higher is the fact that despite such loud noise, the speakers don't make unbearable distortion. As a result, you can listen to loud noise for a long time without much strain.
According to What Hi*Fi, mid/treble and bass units are stored in separate cabinets. While the latter are 243 cm tall and have 24×30 cm woofers, the other "stacks six 7.5cm x 190cm Quasi-Ribbon/Planar-Magnetic units into its 4m frame."
Magico Ultimate Speakers III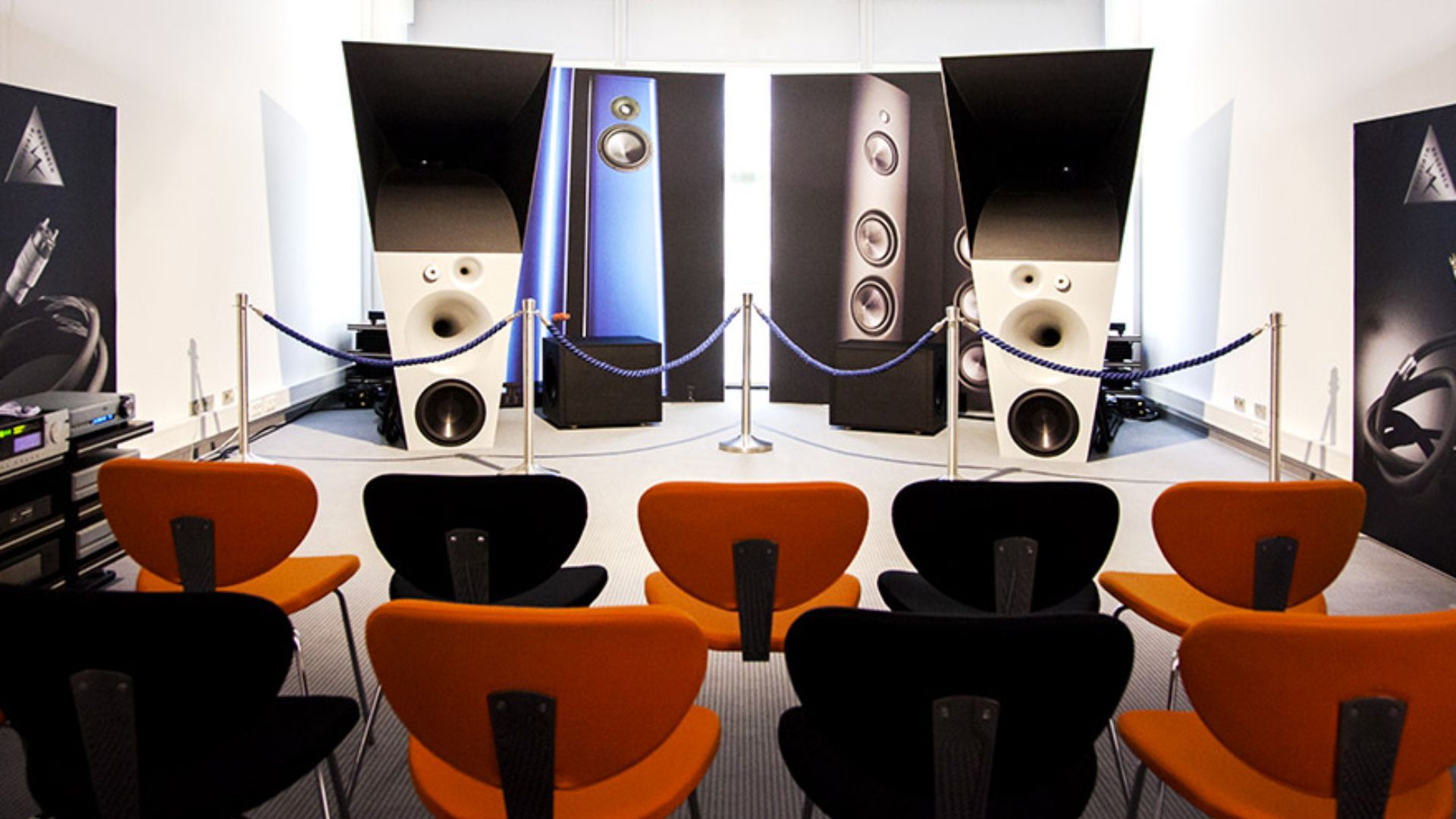 Price: USD 700,000
The third version of these expensive speakers from Magico can grab the spotlight in absolutely any space with its bizarre design. A CNET report suggests that what adds to its hefty price tag is the fact that these are so rare that there are little to no dealers in the USA who have them on display. The manufacturer doesn't have warehouses to stock these wonderfully robust speakers. Therefore, laying hands on one is nothing short of a great feat.
Sharing the horns and mega-phone structure from the original 2004 model, the Magico Ultimate III speakers feature redesigned drivers, crossover networks and amplifiers. The report states, it is an all-aluminium five-way horn-loaded system with each speaker weighing about 500 kg and has four horns.
The drivers are made in Japan and cost about USD 10,000. The 2.4-m-tall audio equipment also carries a 38-cm-diameter woofer and a 4,000-watt amplifier that produce deep bass sounds.
Wilson Audio WAMM Master Chronosonic

Price: USD 850,000
Described as the 'Magnum Opus' creation by founder Davis Wilson, the WAMM Master Chronosonic from Wilson Audio comes in line with the brand's long heritage of making some of the most expensive speakers in the world.
Aptly carrying the acronym WAMM for Wilson Audio Modular Monitor, these multi-module speakers produce a life-like sound that can turn any home into a movie theatre. Featuring "a true full-range design", the Chronosonic is a culmination of nearly five years of research and development. Such is the precision and high-end quality that the time element of each module can be adjusted by five microseconds.
Each speaker is towering at 214 cm, 53 cm wide and 95 cm deep. Constructed out of aerospace-grade aluminium, along with patented materials which Wilson Audio calls S-, X- and W-material, they flaunt an open-front body to reduce stored energy.
The bottom portion can also be moved to adjust it with a wide range of listening environments. The audio system uses 25 mm doped silk fabric for the front and rear firing tweeters, two upper midrange and lower midrange drivers and two woofers.
Cessaro Horn Acoustics Omega 1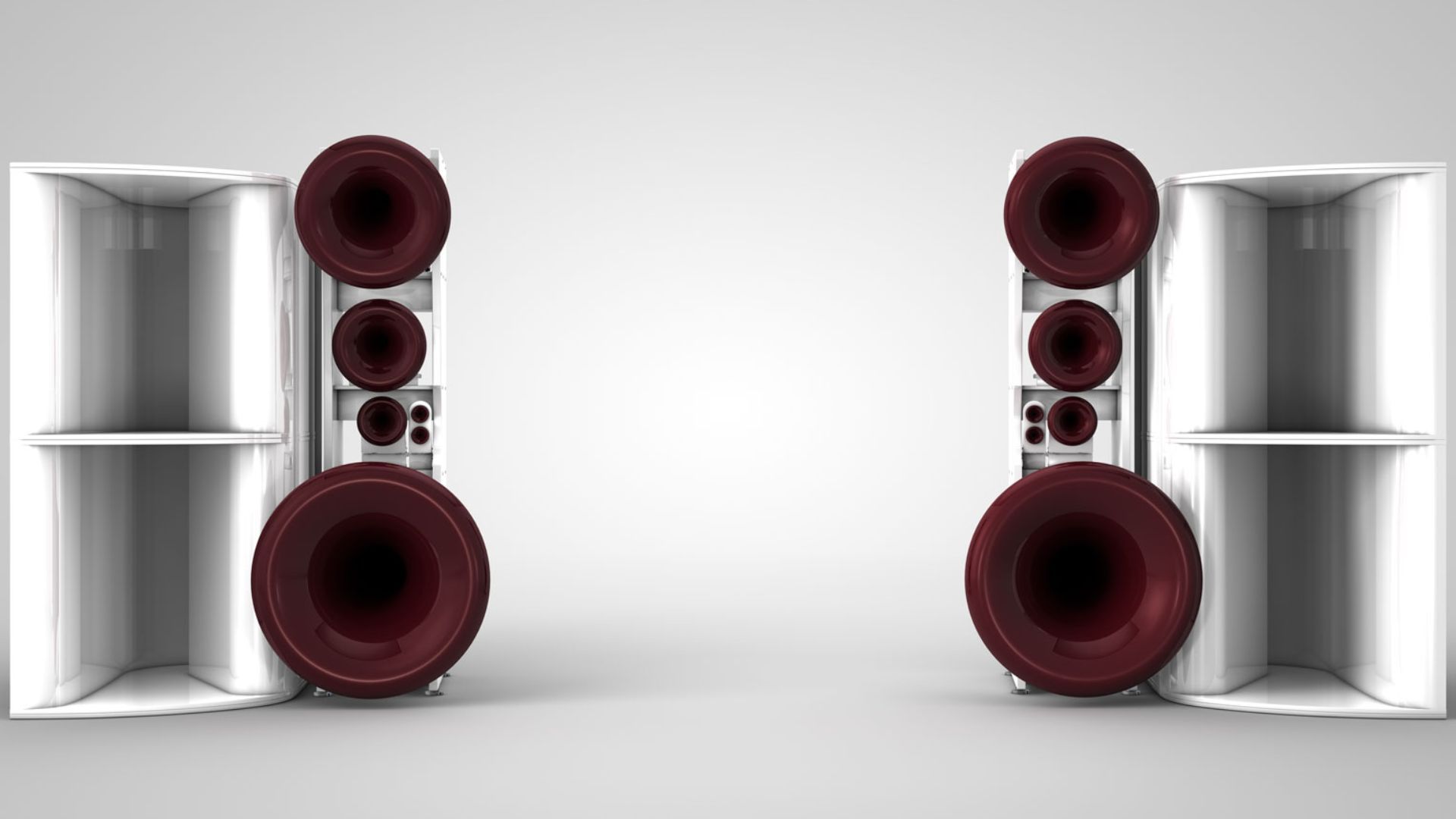 Price: USD 1 million
Expert horn speaker maker Cessaro Horn Acoustics offers a premium speaker set that not only has striking looks and design but also delivers high-quality sound that can bring any live concert to your living room. Measuring 2.8 m in height and weighing 4,500 kg, this expensive speaker features six 40 cm bass units that breathe life into the front-loaded horns. It is available in an array of vibrant colours for fun customisation.
According to some reports, their horns are made of new proprietary composite elements — a two-shell fibre material with a polymer filling, which is sealed with a CNC-machined aluminium flange.
The company also offers side panels and cabinets that can compliment these sound beasts and make them stand out in your home.
Kharma Grand Enigma
Price: USD 1 million
One of the most expensive speakers in the world, the Kharma Grand Enigma is just as alluring as it sounds. In fact, reports suggest the high-end Dutch manufacturer created just a few of these wall audio systems and are not sold in the general market. The bid to offer the unique and the best music-listening equipment led Kharma to build this lavish machine in a secret cellar in Belgium with high-quality control.
However, not much information about its features and specs is known. Hence, if you want to experience good sound from this label, the Kharma Grand Enigma Veyron 1D is a great alternative.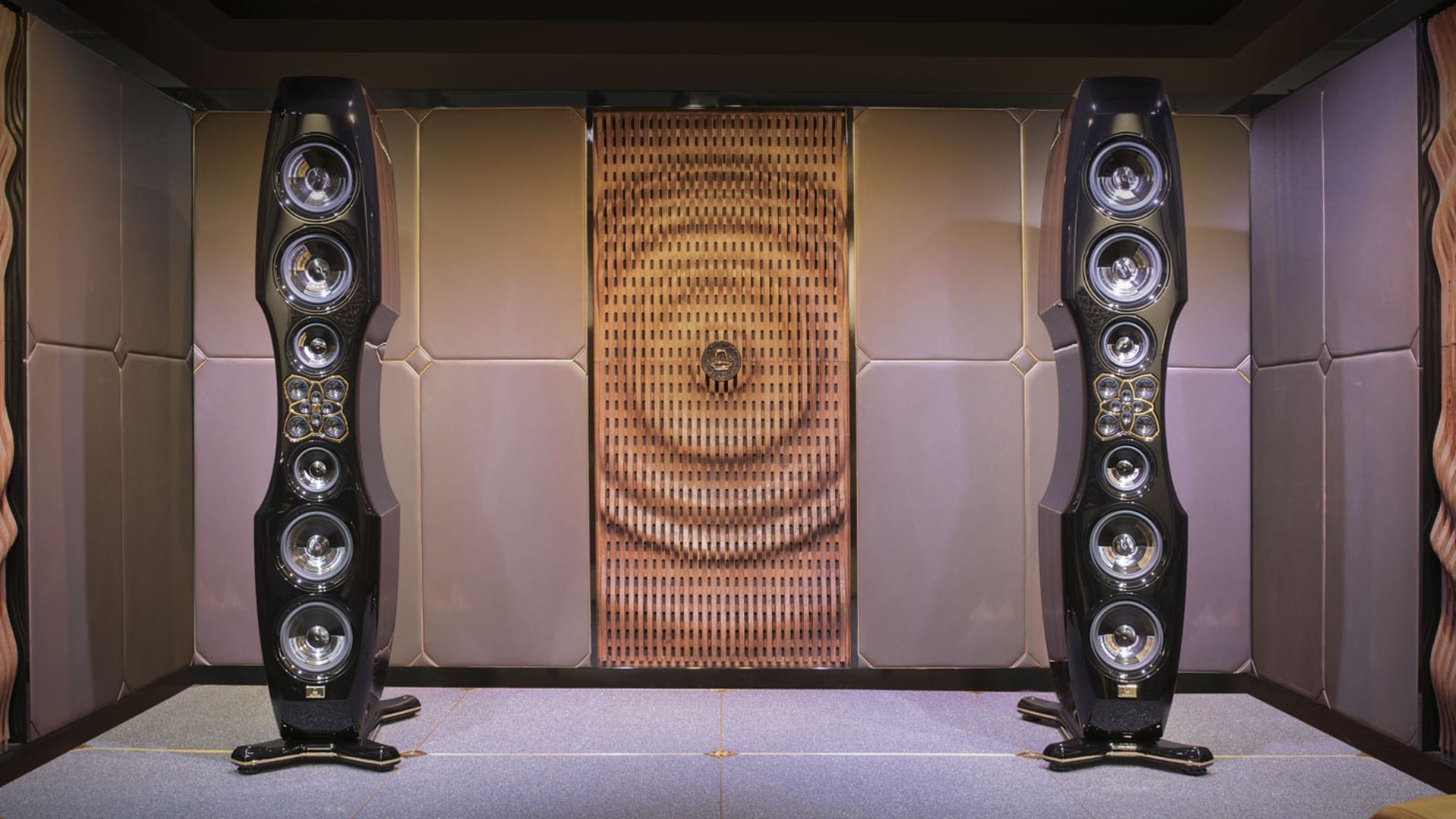 It measures around 2.2 m in height, 560 mm in width and 920 mm in depth. It features eight high-frequency drives, along with two mid-frequency and four low-frequency drives.
A Diamond Kharma Lotus — an eightfold Diamond tweeter of 25 mm and 50mm — sits at the centre of each speaker. "The largest Diamond cone surface ever made for dynamic loudspeakers," the Enigma Veyron 1D offers "higher resolution, faster transients, more micro and macro dynamics and a more richer [sic] spectrum of tonal variations from the music itself, more natural, explosive and realistic sound," states the Khamra website. Reports suggest its price is over USD 430,000.
Moon Audio Opulence
Price: USD 1.1 million
The state-of-the-art audio loudspeakers have altered the way of producing sounds at home. As a limited-edition gem, only 10 pairs of these speakers have been reportedly made. This exclusivity adds to its price tag and easily puts it among the most expensive home speakers.
The speaker system is equipped with a certain Dark Star technology, which will feed sound "directly into the brain, bypassing the ears". According to gearspace.com, "The Opulence employs innovative magnetic control systems developed from nuclear reactor containment to structure internal magnetic fields in a way that is non-damaging to music reproduction."
The speaker system is sold exclusively via HigherFi, one of the world's largest retailers of ultra-luxury audio gadgets, to Audio Moon's top client base.
Transmission Audio Ultimate
Price: USD 1 million – 2 million
Occupying a mammoth 12 m of floor space and standing at 2 m, the Transmission Audio Ultimate's size is not the only gigantic thing. The price tag is equally heavy, with just a single piece costing USD 1 million. Hence, you would have to shell out double for a pair and almost USD 5 million for a complete home theatre system.
According to What Hi*Fi, the speaker pair boasts a slew of premium components that provide exceptional sound quality without distortion. These include four Dipole Subwoofers, each comprising 10 38 cm Ultra Class elements; two Dipole Woofers (one per channel), each with 24 Ultra-low distortion; 20 cm Wide band woofers; four Dipole MF/HF ribbon panels (two per channel), with 14 m of 5 cm wide ribbons each; and two Dipole HF Super ribbon panels (one per channel), 2 m of 2.5 cm ribbons.
The price also includes six optimised amplifiers, which generate 3,000 watts and thrust sound pressure levels of 146 dB.
Hart Audio D&W Aural Pleasure
Price: USD 5 million
As the most expensive speakers in the world, this Hart Audio creation embodies opulence, decadence and grandeur. These ultra-luxurious speakers are crafted out of 100 kg 18-carat gold and weigh around 50 kg without drivers. Launched in 2012, the company made only one version; however, they did produce five silver speakers, priced at USD 315,000, and 99 pairs in phosphor bronze, priced at USD 63,000.
The speaker system comprises three speaker drive units which offer a controlled, well-balanced and clear audio signal. The main driver offers midrange and bass sounds and has a high-frequency unit at the centre for treble.
"The super tweeter extends the bandwidth of this all-embracing speaker to reveal the full potential of the latest high-resolution audio formats," states the report, while low-end frequencies are generated by the speakers using high-end unique innovations.
(Main image credit: Wilson Audio; Feature image credit: Magico)
Frequently Asked Questions (FAQs)
– Which speaker is best for home theatre?
Some of the best speakers for home theatres include the Dali Oberon 5 5.1 Speaker Package, Wharfedale Diamond 12.1HCP, Wharfedale Evo 4.4 5.1 and Q Acoustics 3050i 5.1 Cinema Pack.
– What is the most expensive home theatre gadget?
The Hart Audio D&W Aural Pleasure is among the most expensive speakers at USD 5 million. It has an 18k gold body and makes a stunning home theatre feature with impeccable sound quality.
– Which is the most expensive speaker in the world?
The Hart Audio D&W Aural Pleasure is the most expensive speaker in the world, with a price of USD 5 million.
Read More: World News | Entertainment News | Celeb News
247