A brawl broke out during the final moments of an Indoor Football League game on Monday.
There was less than 60 seconds remaining on the clock in the game between the Massachusetts Pirates and the Arizona Rattlers — when a melee spilled over in the stands.
The Pirates were trailing the Rattlers by nine points late in the game, but that's when a series of shocking events began.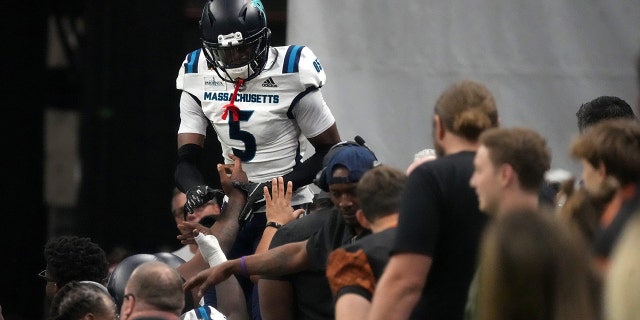 A Pirates defensive player was seen leaping into the area where fans were seated to seemingly confront a possible heckler.
A short time later, punches started being thrown, and several other players made their way into the stands.
GUARDIANS FANS GET IN WILD BRAWL AT PROGRESSIVE FIELD AS TEAM BEATS ANGELS
It is unclear which players were attempting to escalate the fight and which ones may have been attempting to deescalate the situation.
Five players and at least one fan were thrown out of the stadium as a result of the fracas.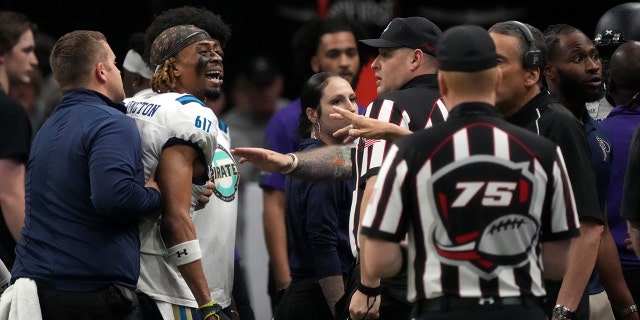 A woman was seen comforting a crying young after the fight. 
"I heard the Rattlers start saying, 'Oh, he's hot', so I looked over and I saw him jump over," the sideline reporter who was a member of the game's broadcasting team said.
"There was a fan over there. He was in the fan's face. I don't know what he said, but he hopped over there — didn't even touch the wall."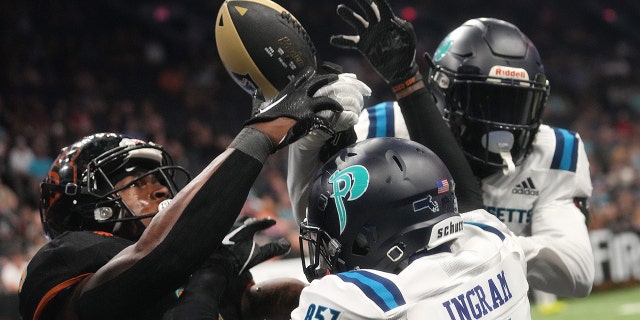 Chris Ingram, Charles Williams, Leon O'Neal Jr., Pirates coach Patrick Pass, were suspended indefinitely, according to the Indoor Football League.
"Under zero circumstance can you ever go beyond the wall and into the stands," Indoor Football League commissioner Todd Tryon said in a statement.
"This is a one-time incident that does not reflect what the IFL stands for. We are a family friendly league that offers great sports entertainment, and we will continue to build on that moving forward. What was a very exciting game was marred by the actions of a few. These actions will never be tolerated and are being fully dealt with."
Read More: World News | Entertainment News | Celeb News