Iranian forces captured a international vessel on Wednesday, the second ship to be harassed and seized by the Middle Eastern nation in per week, the U.S. Navy stated.
The Niovi, a industrial oil tanker flying the Panama flag, was passing by means of the Strait of Hormuz between the Persian Gulf and the Gulf of Oman when it was overtaken by Iran's Islamic Revolutionary Guard Corps Navy (IRGCN).
IRANIAN COMMANDOS SEEN LANDING ON US-BOUND TANKER IN NEW VIDEO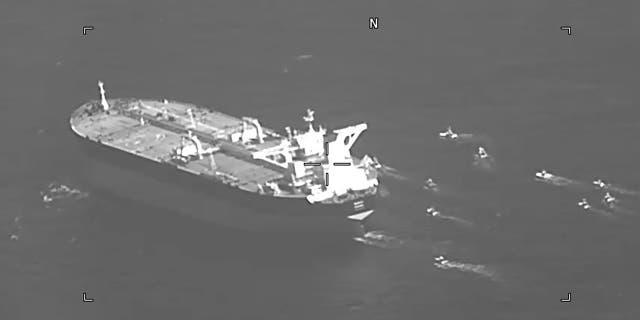 Approximately 12 members of the IRGCN swarmed and bordered the Niovi by way of fast-attack craft. The IRGCN then pressured the crew to show the ship round and sail again into Iranian territorial waters.
The Panama oil tanker was transiting from Dubai to Fujairah within the United Arab Emirates when it was captured.
AIR FORCE SQUADRON IN MIDDLE EAST ARMS UP WITH 'BUNKER BUSTING' BOMBS TO COUNTER IRAN
Video footage declassified and launched by the U.S. Navy captures an aerial view of the Iranian operation.
This is Iran's second illegal seizure of a international vessel in lower than per week.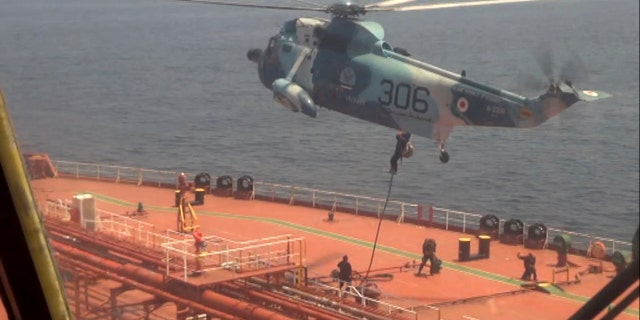 The Marshall Islands-flagged oil tanker Advantage Sweet was taken final week by Iranian forces after leaving Kuwait en path to Houston, the U.S. Navy introduced Sunday.
Video of the Advantage Sweet incident confirmed Iranian forces approaching the oil tanker by way of helicopter because it travels by means of the Gulf of Oman.
Read More: World News | Entertainment News | Celeb News