FIRST ON FOX – The Republican National Committee will raise polling and donor thresholds 2024 primary candidates must reach to make the stage at the third GOP presidential nomination debate, Fox News Digital has learned.
To participate in the third debate, each candidate must have a minimum of 70,000 unique donors to their campaign or exploratory committee, including 200 donors in 20 or more states, according to sources with knowledge of the committee's deliberations.
The White House hopefuls must also reach 4% support in two national polls, or reach 4% in one national poll and 4% in two statewide polls conducted in Iowa, New Hampshire, Nevada or South Carolina — the four states that lead off the Republican presidential nominating calendar.
THESE REPUBLICAN CANDIDATES ARE SCRAMBLING TO QUALIFY FOR NEXT WEEK'S SECOND PRESIDENTIAL DEBATE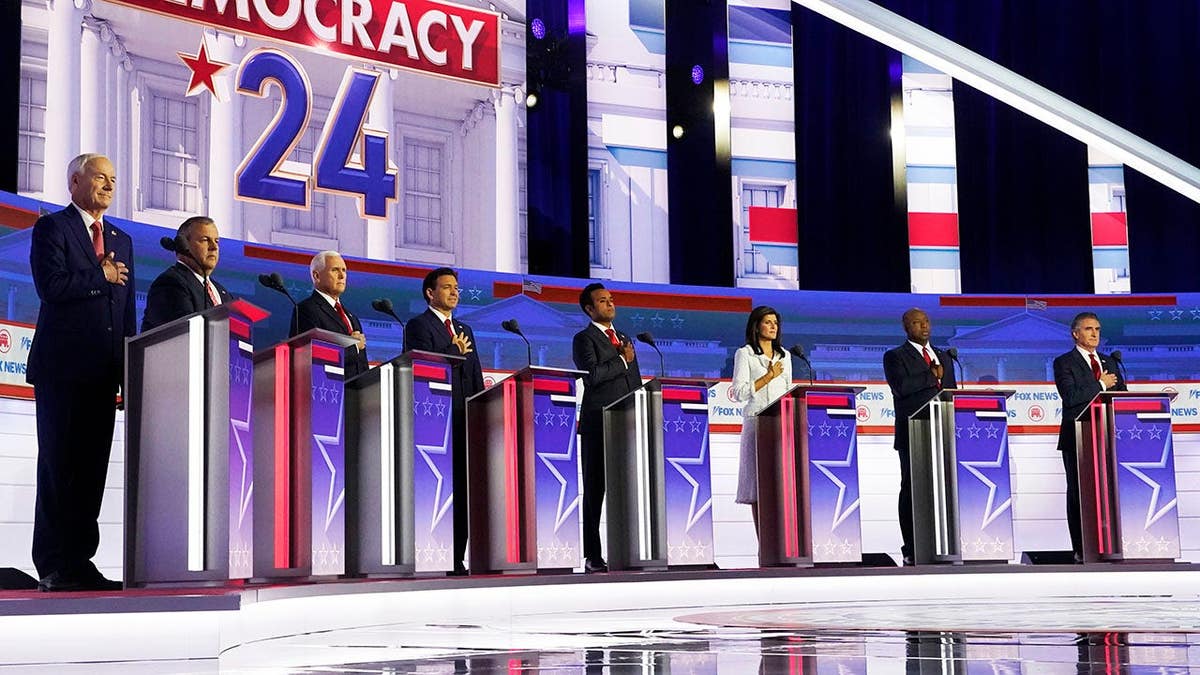 Additionally, candidates are also required to sign a pledge in which they agree to support the eventual Republican presidential nominee. They must agree not to participate in any non-RNC sanctioned debates for the rest of the 2024 election cycle and agree to data-sharing with the national party committee.
The thresholds have been rising for each ensuing debate. To make first showdown, a Fox News hosted event in Milwaukee, Wisconsin on August 23, the candidates needed to hit a 1% in polling and have 40,000 donors. Eight candidates ended up facing off in Milwaukee.
HERE ARE THE CANDIDATES WHO'VE SECURED A SPOT ON THE STAGE AT THE SECOND GOP PRESIDENTIAL DEBATE
The criteria were raised to 3% in the polls and 50,000 donors for next week's second debate, a Fox Business hosted showdown happening Tuesday at the Ronald Reagan Presidential Library and Museum in Simi Valley, California.
So far, according to a Fox News count, six of the eight candidates who took part in last month's first GOP presidential nomination debate have already reached the RNC's criteria.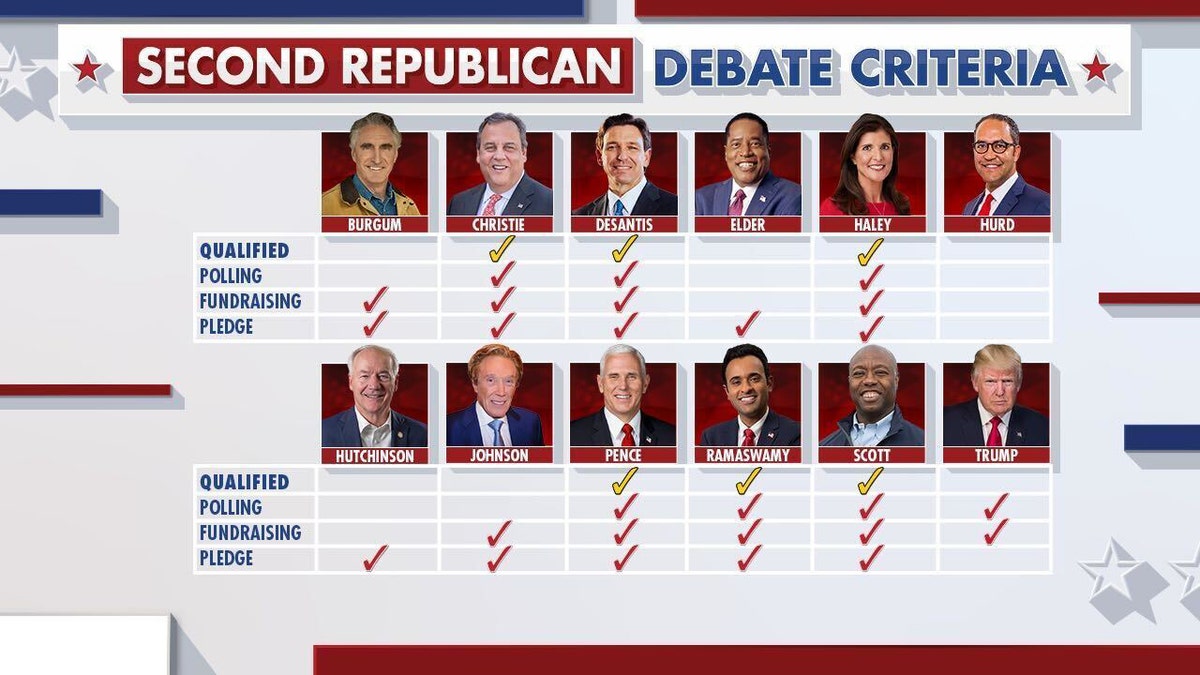 They are former — in alphabetical order — New Jersey Gov. Chris Christie, Florida Gov. Ron DeSantis, former ambassador and former South Carolina Gov. Nikki Haley, former Vice President Mike Pence, biotech entrepreneur and political commentator Vivek Ramaswamy, and Sen. Tim Scott of South Carolina.
CLICK HERE TO GET THE FOX NEWS APP
North Dakota Gov. Doug Burgum and former Arkansas Gov. Asa Hutchinson, who qualified for the first debate, have yet to reach the second showdown's thresholds.
Former President Donald Trump, who has reached the donor and polling thresholds, did not sign the RNC's pledge. Pointing to his large lead over his rivals for the nomination, he did not attend the first debate and has already made alternate plans for next week's showdown.
Get the latest updates from the 2024 campaign trail, exclusive interviews and more at our Fox News Digital election hub.
Read More: World News | Entertainment News | Celeb News
247