Multiple people were wounded in what is being described as a vehicular terror attack in Israel on Tuesday.
A 23-year-old Palestinian man in Tel Aviv, Israel, drove his vehicle onto the sidewalk to strike bystanders. The assailant then exited the vehicle and brandished a knife, stabbing the victims, according to police. 
"We understand that he was alone, and we have no doubt that this was an attack," said Tel Aviv Police District Commander Ami Eshed, according to Haaretz. 
"[Police] are taking action to find out if the assailant was accompanied by anyone else. This is a difficult event but currently the situation is stable," the officer added. 
ISRAEL DEPLOYS THOUSANDS OF TROOPS, DRONES IN ATTACK ON JENIN STRONGHOLD IN TERRORISM 'HOTSPOT'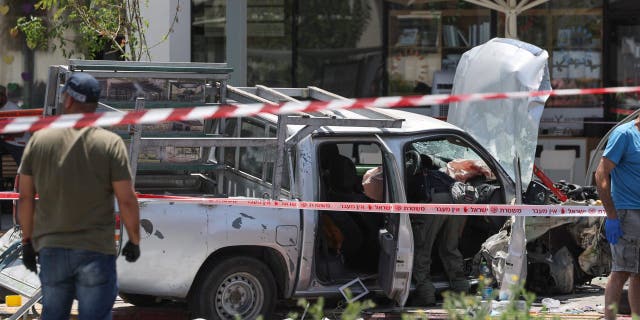 Officials identified the assailant as Abed Khalila, reportedly from the Palestinian village of As-Samu, near Hebron, according to Israel's Shin Bet security services. He was reportedly shot and killed by a civilian bystander at the scene of the attack.
Nine individuals suffered injuries, including one 46-year-old woman who was evacuated to a nearby hospital with severe stab wounds, according to the Guardian.
A Hamas statement praised the attack, calling it "Heroic," noting that it mourns one of its own, calling him a "Martyr fighter."
An earlier Hamas statement called the attack the "first response" to Israeli military operations in the West Bank. 
PROTESTORS SWARM ISRAEL'S BEN GURION AIRPORT OVER NETANYAHU-BACKED JUDICIAL REFORM BID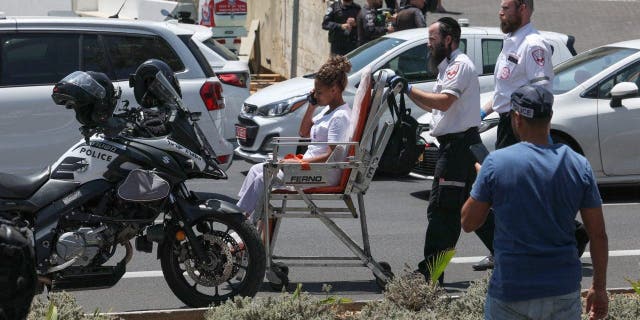 "The heroic action in Tel Aviv is the first response to Israel's crimes against our people in the Jenin refugee camp. As the [Palestinian] resistance has already put it – Israel will pay the price for its crimes," Hamas spokesperson Hazem Kassem said, according to a report from Haaretz.
The Israeli military deployed thousands of troops and drones in an attack on a Palestinian militant stronghold in the West Bank on Sunday night.
Military officials expect the roughly 2,000 troops to remain in the West Bank city of Jenin for up to 48 hours after launching the operation. 
HEZBOLLAH OUTPOSTS ALONG LEBANESE-ISRAELI BORDER TRIGGER UN RESPONSE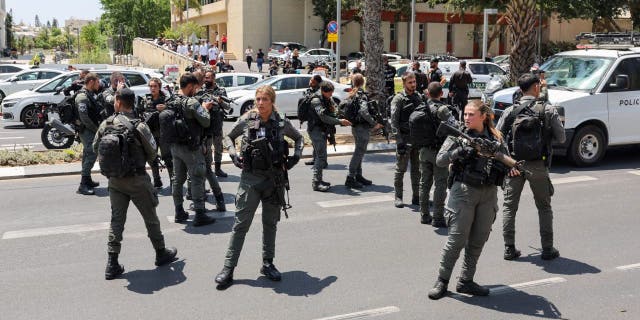 Sunday's fighting centered on a mosque in Jenin that was being used as a base of operations. Israeli forces say they searched lower floors of the mosque where militants had barricaded themselves and "located two pits that contained explosive devices, weapons and military equipment affiliated with the terrorist organizations."
Palestinian officials say at least eight people were killed and 50 were wounded in the attack, which was larger than any operation Israel has carried out this year.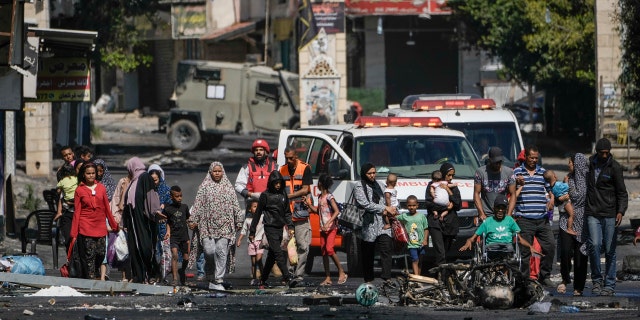 Jenin has been a hotbed of Palestinian terrorist activity for months, with Iranian-backed militants carrying out attacks within Israel.
Fox News' Yonat Friling contributed to this report from Jerusalem.
Read More: World News | Entertainment News | Celeb News