Highlights
Barbara Walters' final moments on The View were emotional as she reflected on her career, joking about Botox and expressing gratitude for her interviews with world figures.
Oprah Winfrey made a special appearance on Walters' final episode and expressed her gratitude for Walters' impact on her career and the journalism community.
Following Walters' passing, The View cast paid a touching tribute to her on air, acknowledging her defiance of sexism and ageism and her trailblazing legacy in the entertainment industry.
Barbara Walters had quite an extraordinary run on The View. However, she also had certain guests she wasn't fond of. One in particular was banned from The View. That guest was none other than Kathy Girffin, who had a broken relationship with the host.
In the following, we're going to take a look at a different chapter in Walters' life, as she closed the door for good on The View. We're going to take a look back at her final moments on the show, and why fans are still emotional over her closing comments. In addition, we'll reveal who took part in her final episode, and the tributes that came in from her fellow cast members following her passing in late 2022.
RELATED – A Crew Member On The View Had To Get Involved After Guest Tim Scott Refused A Commercial Break
Barbara Walters Touched On Her Most Memorable Interviews Ever During Her Exit Speech On The View
Barbara Walter departed from The View almost a decade ago in May of 2024. Her sign off from The View included Hillary Clinton, Oprah and others that said goodbye.
Barbara's sign-off in particular was an emotional one, as she touched on some of the highlights of her career.
She said starting off with a joke, "How do you say good-bye to something like 50 years in television? The good news is that I will have time now to get Botox. But now that I'm no longer going to be on the air I don't need Botox. But starting soon I may be available for supermarket openings and charity auctions. For a $10 bid, you could have lunch with me. For a $20 bid, you don't have to."
Walters continues, "No need to think of covering my head when interviewing such majesties as the King of Saudi Arabia. And no need to be apprehensive about interviewing the non-majesty, the president of Syria. But also no feeling of the peace that warmed me when I met with the Dalai Lama or the sense of accomplishment trying to navigate between the competing heads of Egypt and Israel. What an honor to have questioned every U.S. president and first lady from Richard and Pat to Barack and Michelle."
Walters final words before close her last episode were perfect, "And then when all that is done, I can take a deep breath and enjoy my view. Thank you."
RELATED – Stephen Colbert Walked Off The Set Of The View But Dropped His Character And Showed His Emotional Side When He Returned
It was an emotional moment fans are still looking back on. The clip resurfaced following Walters' passing. Her closure on The View was made that much more special by other guests that took part.
Oprah Winfrey Also Made A Speech During Barbara Walters' Final Episode
Oprah Winfrey was among the special guests and even Walters herself didn't realize the impact she had on Winfrey's career. Oprah got a big cheer from the audience during her appearance. The words that followed truly showed what an impact Walters made on the journalism community.
Oprah said, "I had to be here for your last show to celebrate you because of what you have meant to me," Oprah explains to a genuinely surprised Walters. "You have literally meant the world to me."
She continues, "I thank you for the courage it took every day to get up and keep doing it. You're really are the reason why we're all here, you're the reason why I wanted to be in television. I want you to have everything that your heart desires. You deserve it."
RELATED – Matthew Perry Was Emotional Over The Reaction He Received On His Final Appearance On The View
A great moment between the two and one the fans adored.
Sadly, Walters passed away at the age of 93 in late 2022. The former View host was suffering from dementia. Among her last words were, "No regrets – I had a great life." Those were the words used on the gravestone located in Lakeside Memorial Park in Florida.
The View Cast Issued A Tribute To Barbara Walters Following Her Passing
As expected, Walters received several tributes following her passing. According to ET, Whoopi Goldberg, Joy Behard and The View co-hosts paid an emotional tribute to Walters on air.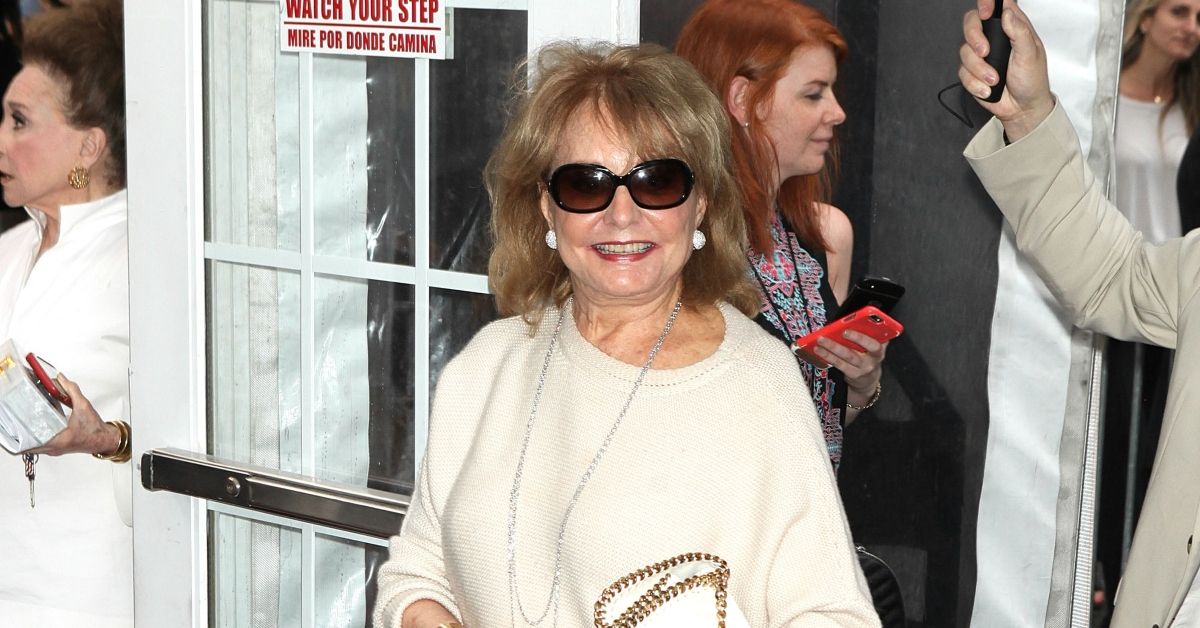 Behar said during the tribute, "People have been talking about her on all of the shows, but we knew her better than anyone, I think. She very much defied sexism and defied ageism," she continued. "She went right into the jaws of the lion… She started The View when she was 68 years old — very few people start a brand new career at 68."
"The industry had to respect her," Goldberg agreed. "She did not allow them not to respect her."
Walters' impact was clear not only from the members of The View, but across the world of entertainment. She broke down lots of doors and will always be remembered as a major trailblazer.
Source: NewsFinale