Meghan Markle left Suits shortly before marrying Prince Harry and joining the royal family in 2018. According to Spare, the idea of the Duchess of Sussex "doing the job" alongside the Duke of Sussex didn't exactly sit well with King Charles III. As Harry recalled in his January 2023 memoir, his father claimed he wouldn't be able to "pay for anyone else" were Meghan to give up acting to become a working royal.
King Charles told Harry 'there's not enough money to go around' while discussing the possibility of Meghan quitting acting
Just before asking Queen Elizabeth II's permission to marry Meghan on a "cloudy, blustery day" in 2017, Harry found himself in a car with his father and brother, Prince William, on their way to an afternoon of shooting.
The conversation about Meghan started innocently enough with the king asking "casually" about Harry's then-girlfriend. "'Does she want to keep on acting?'" the now-father of two recalled his own father asking (via Spare). To which he replied: "'Oh. I mean, I don't know, I wouldn't think so. I expect she'll want to be with me, doing the job, you know, which would rule out Suits … since they film in … Toronto.'"
At the time, Meghan had been playing Rachel Zane on the USA legal drama for six-plus years. As for how the king, the then Prince of Wales, responded, he told Harry the following: "'Hmm. I see. Well, darling boy, you know there's not enough money to go around.'"
Harry thought King Charles's 2017 comment had to do with Meghan 'grabbing the limelight'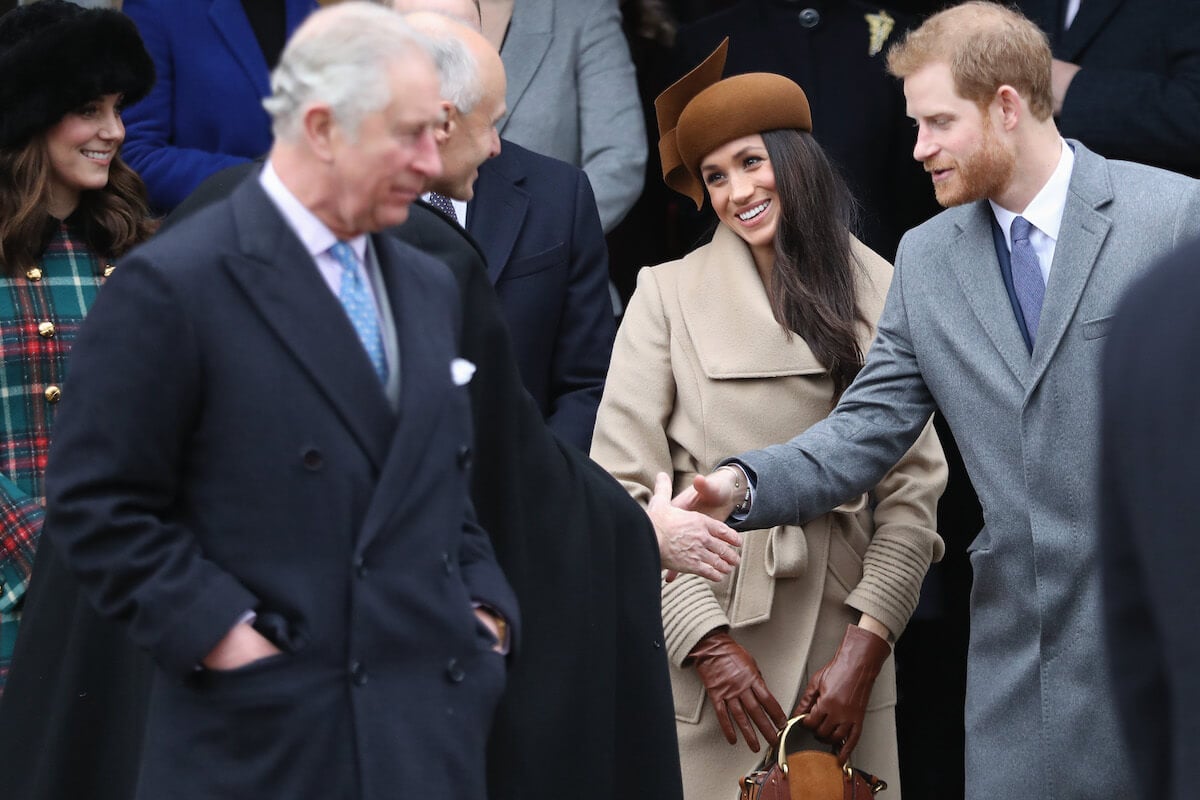 The Duke of Sussex continued, sharing how he reacted to King Charles's "'not enough money'" claim. "I stared. What was he banging on about? He explained. Or tried to. 'I can't pay for anyone else. I'm already having to pay for your brother and Catherine.'"
"I turned to Willy, gave him a look that said: 'You listening to this?' His face was blank," Harry recalled, before noting their father didn't offer financial support out of pure generosity.
"That was his job. That was the whole deal. We agreed to serve the monarch, go wherever we were sent, do whatever we were told," he wrote. "In exchange the keepers of the cage agreed to feed and clothe us."
"Was Pa, with all his millions from the hugely lucrative Duchy of Cornwall, trying to say that our captivity was starting to cost him a bit too much?" Harry wondered. "Besides which — how much could it possibly cost to house and feed Meg? I want to say, She doesn't each much, you know! And I'll ask her to make her own clothes, if you like."
However, it became "suddenly clear" to Harry "that this wasn't about money. Pa might have dreaded the rising cost of maintaining us, but what he really couldn't stomach was someone new dominating the monarchy, grabbing the limelight, someone shiny and new coming in and overshadowing him. And Camilla. He'd lived through that before, and had no interest in living through it again."
"I had no time for petty jealousies and Palace intrigue," he concluded.
Harry and Meghan's 2018 royal tour 'changed' their relationship with King Charles and other royals
A 16-day royal tour across Australia, New Zealand, Fiji, and Tonga in the fall of 2018 proved to be a turning point. Recalling their first tour abroad as newlyweds, Harry told Oprah Winfrey during his and Meghan's 2021 interview that things changed.
"My father, my brother, Kate, and all the rest of the family, they were really welcoming" to Meghan, Harry recalled. "But it really changed after the Australia tour, after our South Pacific tour. It was the first time that the family got to see how incredible [Meghan] is at the job."
"I just wish that we would all learn from the past," he continued. "To see how effortless it was for Meghan to come into the family so quickly in Australia and across New Zealand, Fiji, and Tonga, and just be able to connect with people."
Meanwhile, in Spare, Harry recalled feeling so uneasy about Meghan's success that he actually cautioned her against doing "too well."
"She was so brilliant that midway through the tour I felt compelled … to warn her," Harry wrote before recalling what he told Meghan. "'You're doing too well, my love. Too damn well. You're making it look too easy. This is how everything started … with my mother.'"
Harry continued, explaining how when Diana dazzled on royal tours, it caused tension within the royal family. "Maybe I sounded mad, paranoid," he wrote. "But everyone knew that Mummy's situation went from bad to worse when she showed the world, showed the family, that she was better at touring, better at connecting with people, better at being 'royal,' than she had any right to be."
Read More: World News | Entertainment News | Celeb News
Int