Highlights
Suits gained immense popularity on Netflix, with fans moved to tears by Meghan Markle and Patrick J. Adams' on-screen wedding.
Adams playfully acknowledged the show's renewed popularity on Instagram.
Adams expressed his support for Markle and defended her against media scrutiny.
Since Suits became available on Netflix in June 2023, it attracted a surge of fans eager to delve into the series that catapulted Meghan Markle to fame long before her marriage to Prince Harry in May 2018. Throughout her seven-year tenure on Suits, Markle's character is perhaps best remembered for her passionate relationship with Mike Ross, portrayed by Patrick J. Adams.
Their on-screen romance was undeniably intense and they both cherish their off-screen closeness. According to the Daily Mail, fans were moved to tears by their on-screen wedding in the series' seventh finale. Their chemistry was the series' main showrunner before Markle left in 2018, and Adams followed the next year.
Patrick J. Adams Paid Tribute To His Friendship With Meghan Markle On His Instagram
In early September 2023, keen-eyed fans noticed a subtle change in Patrick Adam's Instagram profile. Despite the USA Network series concluding in 2019, Adams decided to acknowledge the Suits' renewed popularity in his Instagram bio, playfully alluding to Meghan Markle's journey after she departed from the show in season 7.
In his Instagram bio, he humorously quipped, "The guy from that show you're watching on that app because that girl married that prince." Adams also shared several photos of the cast on his Instagram, accompanied by the caption, "Let's get serious. Seriously. I miss my friends. Each and every one of them."
During their time working together, Adams and Markle developed a strong friendship. Adams and their former Suits co-stars even attended Markle's royal wedding at Windsor Castle in London, England.
RELATED: Patrick J. Adams May Not Have Made As Much As You Think During His Time On Suits
In an interview with The Hollywood Reporter, Adams revealed that he and Markle didn't explicitly discuss their departure timing from Suits.
Instead, as the youngest and least experienced members of the cast, they shared an unspoken understanding that their journey with the show had reached its conclusion.
They cherished their final episodes, finding humor in the show's idiosyncrasies and reflecting on its profound impact on their lives.
Patrick J. Adams Felt Intimidated To Reach Out To Meghan Markle After She Became Part Of The Royal Family
Although Patrick J. Adams and Meghan Markle reportedly lost touch after becoming parents, Adams has expressed his desire to reconnect with his former co-star in the future.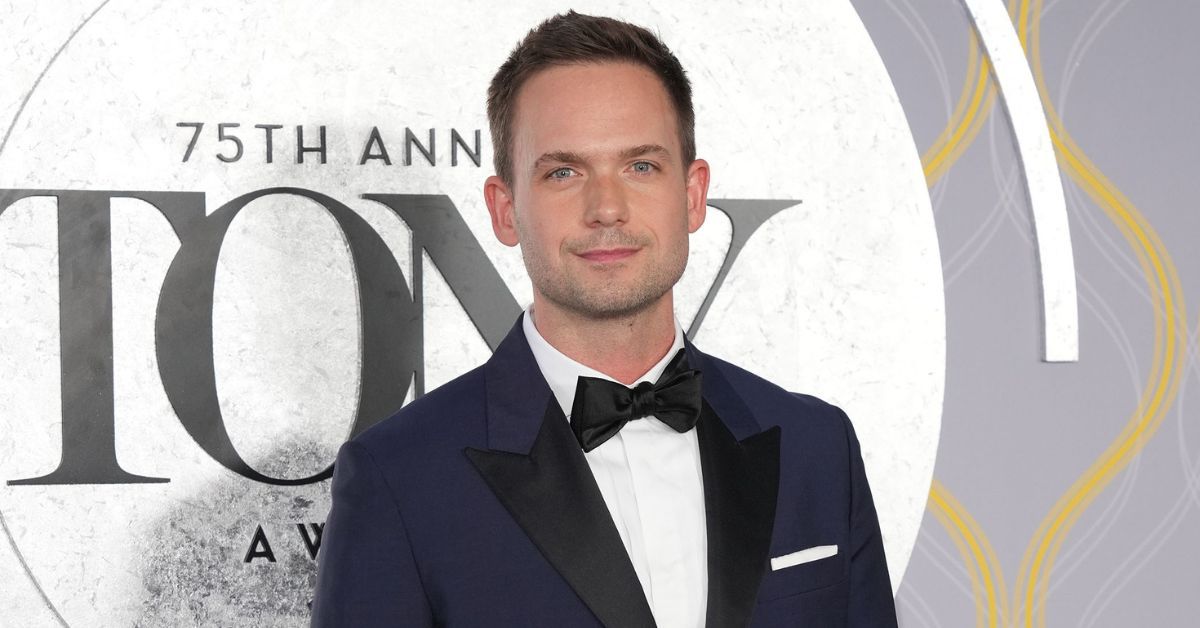 In a 2020 interview with the Radio Times, Adams shared his feelings about the prospect of reaching out to Markle. "After our children were born, there were some texts sent and gifts sent, but I guess I'm a little scared. I think it's pure fear. I guess I'm scared about the idea of breaking through whatever walls exist to have that conversation."
He further explained, "Quite frankly, I think I'm intimidated. I have no doubt I could pick up the phone and call her at any moment, but I don't know what I would say."
RELATED: The Truth About Gabriel Macht And Jacinda Barrett's Relationship With Meghan Markle After Suits
Despite this, the two have exchanged a few texts, mainly centered on the subject of parenting. Adams was quick to clarify that his hesitation is primarily due to Markle's incredibly busy and imposing schedule, "We don't spend any time together, but that's not because of anything other than how completely enormous her life has become in so many ways," he explained via Today.
Patrick J. Adams expressed the challenge of witnessing the media attack, his friend Meghan Markle has endured since departing from Suits and marrying Prince Harry.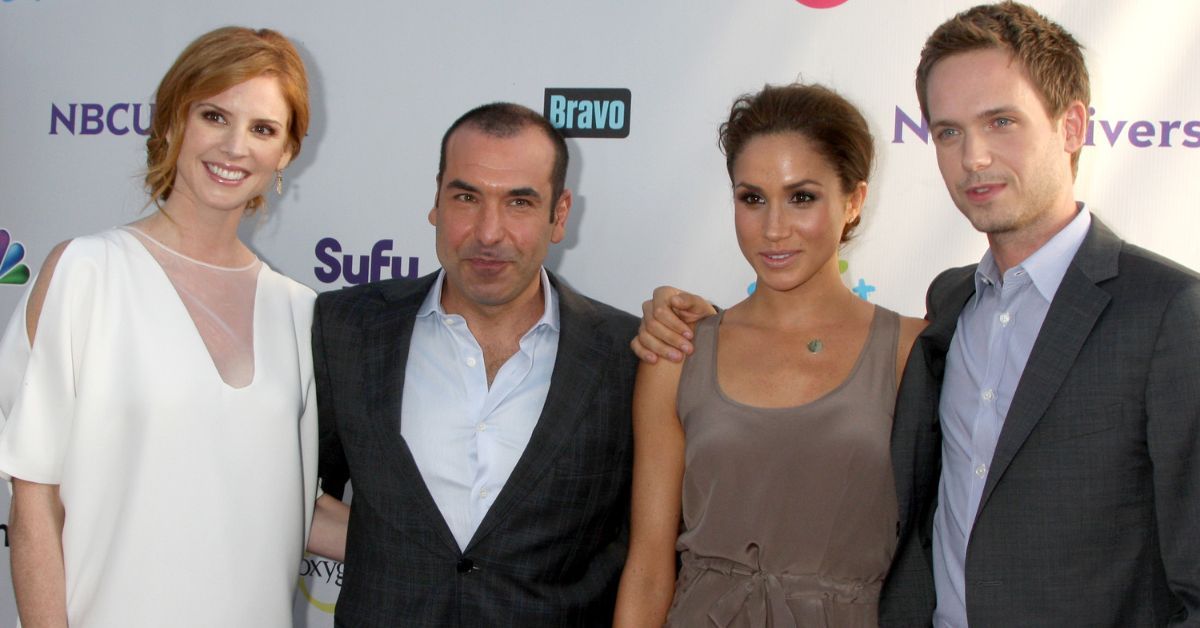 Adams consistently defended Markle and expressed frustration about being involuntarily drawn into debates surrounding his former co-star. "Hello to the people and many bots debating all things Markle and including me in the conversation. I just want you to know a couple of things. 1. I don't read any of it. 2. Life is short. 3. There has to got to be better things for you to be doing. Even you, bots," he posted on Twitter.
He previously characterized the monarchy as "toxic, archaic, and shameless" as he publicly supported Markle against allegations of bullying former Kensington Palace staff.
During a 2020 interview with Access Hollywood, Adams expressed his admiration for Markle's transition to life in the United States, stating, "I am happy to have her stateside," he also added, "I miss my friend, but I'm very happy she's doing well."
While the Duchess of Sussex may have limited time for socializing with her former co-stars, Adams remains interested and supportive of her journey.
Patrick J. Adams Left Suits To Focus On His Family's Life
After seven seasons on Suits, Patrick J. Adams departed from the USA Network's legal drama series. Reflecting on his departure, he explained to The Hollywood Reporter that he began contemplating leaving after the first half of season six.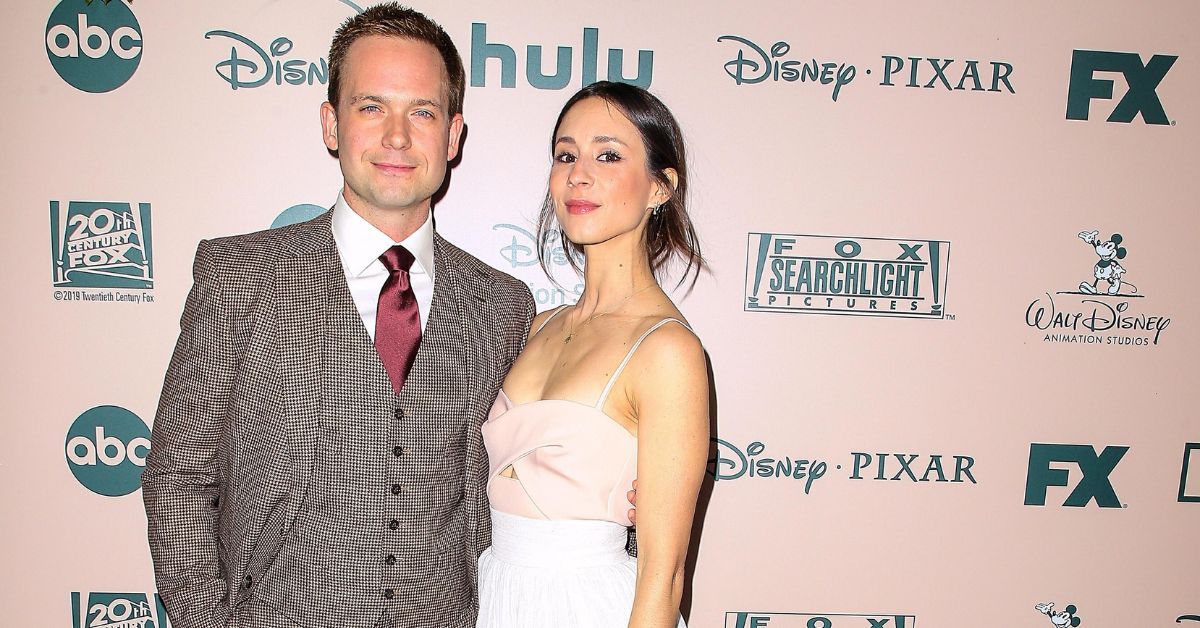 He had concerns about how to further develop his character, "…I wasn't sure how we were going to work that version of the character into the fabric of the show… I had this voice in my head that said that we've told his story and if he hangs out longer, Mike is just going to be another lawyer on television. That didn't feel right for him. It didn't feel right for where I was at in my life, either… It just felt like it was the way to go."
Adams told the publication that he intends to have a break and spend quality time at home with his wife, Pretty Little Liars alum Troian Bellisario, and their dogs. He emphasized the need to carefully consider his next career move, aiming for a project he could fully embrace and sustain over the long term.
Adams and Bellisario became parents to their first child in October 2018, and their family expanded once again in May 2021, with the birth of their second daughter.
RELATED: Is Troian Bellisario Secretly Ashamed To Have Been Part Of The 'Pretty Little Liars' Cast?
The couple also joined forces and created a unique clothing collection inspired by their respective shows, to raise funds for the Variety Boys & Girls Club's inaugural Photography Academy. The collection featured shirts with distinctive designs, including one with a hand making the "shhh" symbol in tribute to Pretty Little Liars and another featuring the outline of a tie in honor of Suits.
Source: NewsFinale