Remy Ma says she's holding her tongue after hinting that she has secrets about people in the industry, but she won't be revealing them.
Nothing seems to phase Remy Ma, especially the recent rumors that she cheated, but it seems that Hazel E's recent comments about the New York rapper left her on edge.
Tasha K recently released a teaser for her upcoming show, and it contained interesting clips of Hazel talking about her time as a celebrity publisher, allegations about her and Kat Williams being involved, and him allegedly hitting her and then paying her to stay quiet about it.
One of the clips also had her reveal that she was an eyewitness to a plot by powerful people in the industry and other rappers who were not pleased with Nicki Minaj's rise and dominance as a female artist.
Hazel E also named Remy Ma as the agent who was sent to take down Nicki Minaj.
"They were going to dismantle this machine [Nicki Minaj] that had taken over female rap and they were sending Rema (Ma) to do it," Hazel said in the clip.
She continued, "I like witnessed first-hand at Summer Jam and they had all these powerful women in hip hop come together to support the dismantling of the Barbie."
Remy Ma popped up on Thursday with a message seemingly directed to Hazel E. "You sh*tted on me & I still never exposed you [face plant emoji]," a meme posted on her Instagram Story read. She also wrote, "I know secrets about people I don't f**k with anymore and their secrets will never leave my mouth. My character will never be questioned… it's cool though."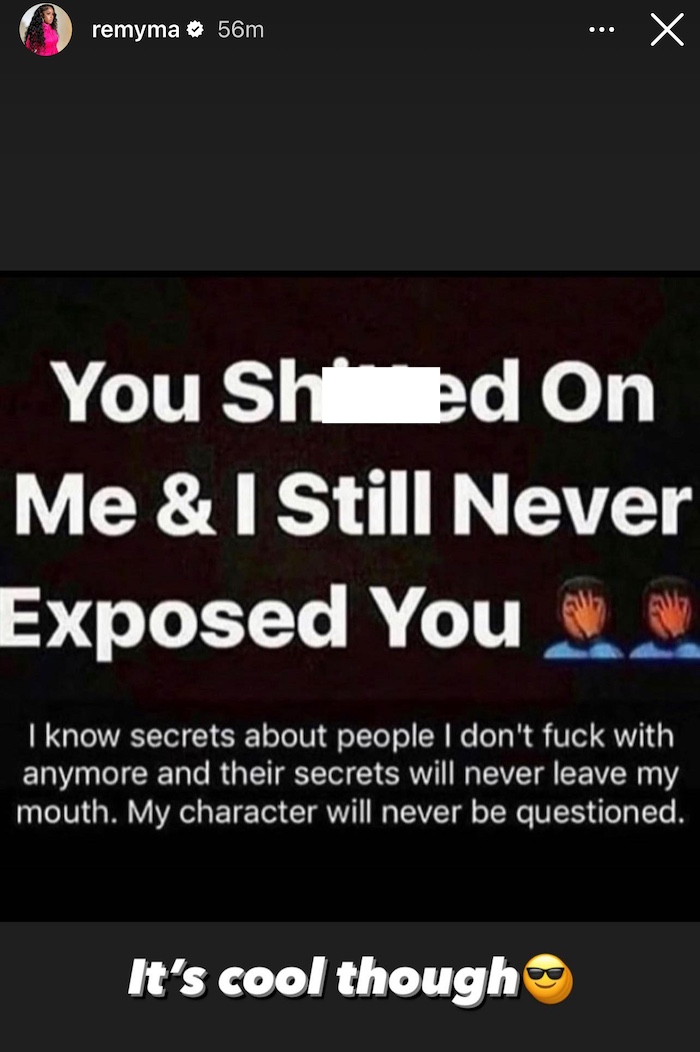 Fans online seemed to think that the post was directed to Hazel E. "I'm tired of letting the disrespect slide. I see more and more why Remy shot that girl every day," one person commented. "I wonder is this because somebody came out and said she was paid to take down Nicki Minaj," another said.
Nicki Minaj and Remy Ma were long rumored to have been beefing after Nicki came on the scene. However, Remy seemingly squashed the beef when she publicly congratulated Nicki for winning BET's Best Female Hip Hop Artist award.
Still, Minaj's fans have tried to stir drama over the years.

However, two weeks ago, Nicki seemingly quoted Remy Ma's lyrics "Ms. Martin" lyrics which hinted that the two rappers were in a good space.

"Look over your shoulder, I'm in da Rover, it's OVER b!ch," Minaj wrote on Instagram while promoting her upcoming album, Pink Friday 2.
Source: NewsFinale