Tiny Harris rubbishes claims that T.I. isn't King Harris' biological father.
Tiny Harris is addressing a wild claim that her son is not T.I.'s biological child after a social media user made the wild claim on Thursday. King has gone viral for his bratty ways, but his parents are standing ten toes down behind him as he goes through the growing pains of dealing with fame and his desires to be normal and relate to the simple things.
The young rapper has claimed that he was not raised with a silver spoon in his mouth as some might think, given this family's past reality show, which showed his siblings and their luxurious life.
He and T.I. have also been back and forth as they disagreed with his upbringing, and his father gently teased him about him choosing to be with his grandma because he was a pet rather than doing what the other kids were doing.
Amid the debate, in which many thought King was saying his parents neglected him, a social media user started a wild rumor claiming that King did not look like his father, T.I., because he was not his biological son, seemingly implying that Tiny might have cheated on her husband.
In a post shared on Instagram, "I just got word from a reputable source, #King was told his biological father is #Bimmy and that's why he said #TIPS history is a mystery…and that it's all cap. Somebody call #Maury #LaurenLondon We wanna hear Clifford Harris #YouAreNotTheFather."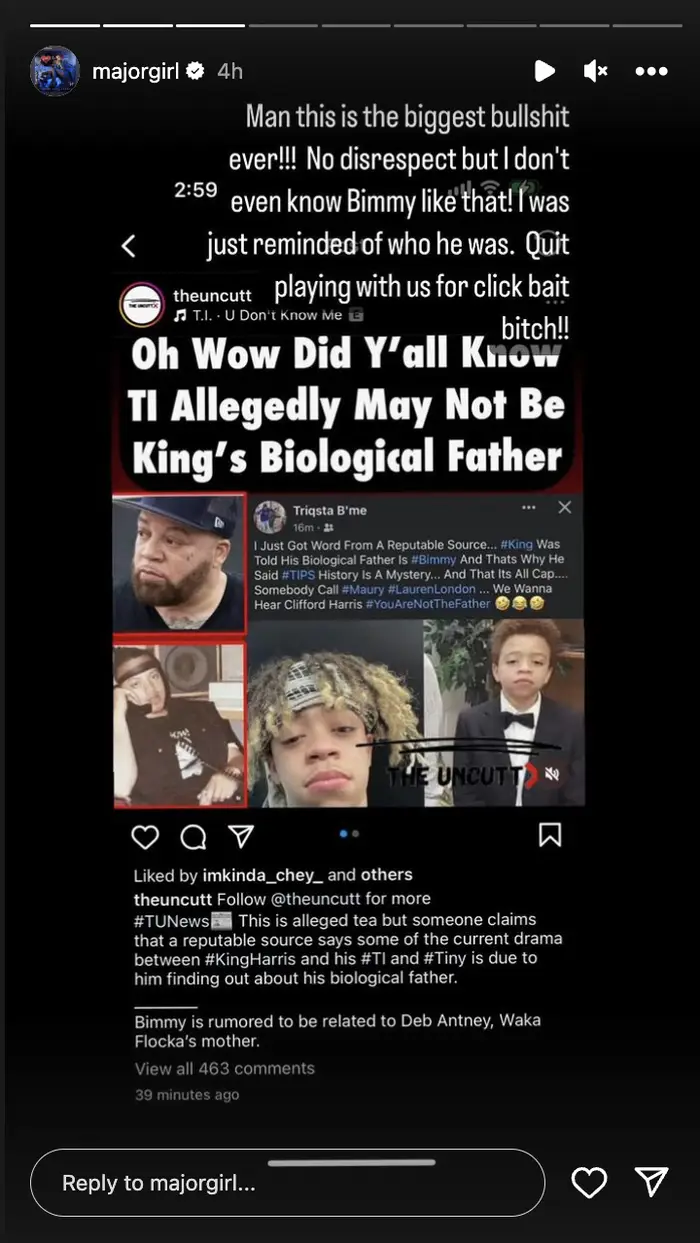 According to another person, T.I. and King's "current drama" was a result of the child finding out about his real biological father. He also claimed that the man named as King's alleged father is related to Waka Flocka Flame's father.
However, Tiny expressed disgust at the fact that someone would make up lies about her son's father.
"Man, this is the biggest bullsh** ever!! No disrespect but I don't even know Bimmy like that! I was just reminded of who he was. Quit playing with us for clickbait b*tch," she wrote.
T.I. has not reacted to the claim, but the rapper always goes hard for his kids and will likely be coming to check the original poster.
Source: NewsFinale