CHARLOTTE, N.C. – Common cancer drugs are running short due to ongoing supply chain issues, forcing doctors to make tough decisions about treating patients., a new survey shows 
The National Comprehensive Cancer Network (NCCN) says 90% of cancer centers in the U.S. are affected by shortages of two main drugs. 
Doctors say this isn't the first chemo shortage they've dealt with, but it might be one of the toughest ones yet. 
"Some of the facilities in the United States, we understand, actually have no Carboplatin or Cisplatin available," said Dr. Robert W. Carlson, the CEO of the NCCN.
CARBOPLATIN, CISPLATIN DRUG SHORTAGES IMPACTING TREATMENT OF US CANCER PATIENTS: 'UNACCEPTABLE SITUATION'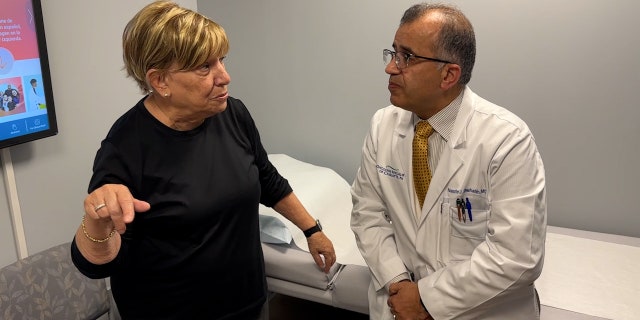 Carlson says Carboplatin and Cisplatin are two of the most common chemotherapy medications as they treat many types of cancer, like lung and testicular cancer. 
But, right now, not every patient has easy access to them.
"I was worried, because I didn't want this to be prolonged," said Gail Lass, who is being treated for stage 2 lung cancer in Charlotte, North Carolina.
Lass needed Carboplatin, but her doctor didn't have any and wasn't sure if he'd be able to find it elsewhere. Eventually, her doctor arranged for her to get the chemo at a nearby hospital.
TWO NEW CANCER PILLS SHOW 'UNPRECEDENTED' RESULTS IN BOOSTING SURVIVAL RATES AND PREVENTING RECURRENCE
"Usually, one of us can get the drug, but it's just become more of a challenge," said Dr. Justin Favaro, a Hematologist and Oncologist at Oncology Specialists of Charlotte.
For now, Favaro says the drugs are being given to people with stage 1, 2 or 3 cancer. That's because treatment aims to cure the cancer in those stages. Stage 4 is when other treatment options are considered.
"In stage 4, patients where they're not necessarily curable. A small change of one drug or one regimen to another wouldn't necessarily shorten their lifespan," Favaro said. It would just be not necessarily the ideal treatment that we would typically use."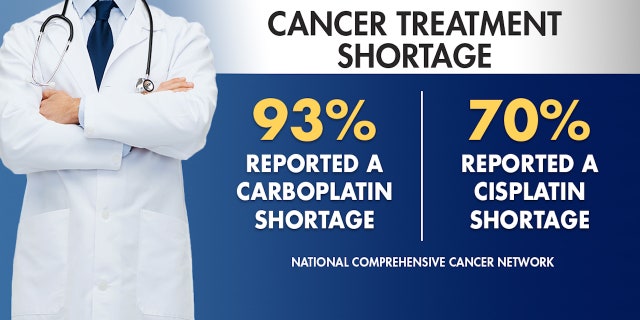 It's estimated that Cisplatin and other similar platinum-based drugs are prescribed for an estimated 10% to 20% of all cancer patients, according to the National Cancer Institute.
"It's going to get worse before it gets better," Carlson predicted.
DRUG SHORTAGES IN CANCER, ASTHMA, TRANSPLANT, BACTERIAL INFECTION TREATMENTS
An NCCN survey of 27 U.S. cancer centers shows 93% have reported a shortage of Carboplatin, and 70% reported a shortage of Cisplatin.
"The current estimates are that up to 500,000 cancer patients per year could be affected by the shortage of these two agents," Carlson said.
The U.S. Food and Drug Administration recently said it would work with a Chinese drugmaker to import Cisplatin to boost the supply for now.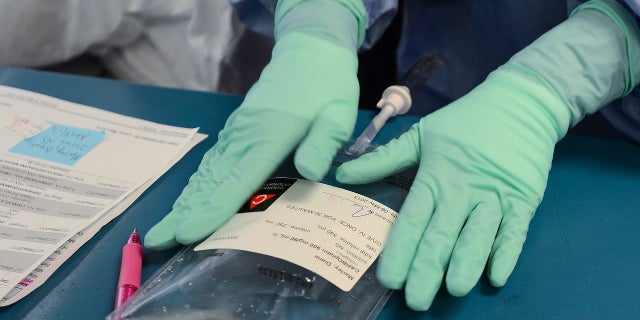 "The FDA recognizes the potential impact that lack of availability of certain products may have on health care providers and patients," the FDA said in a statement to Fox News. 
"While the agency does not manufacturer drugs and cannot require a pharmaceutical company to make a drug, make more of a drug, or change the distribution of a drug, the public should rest assured the FDA is working closely with numerous manufacturers and others in the supply chain to understand, mitigate and prevent or reduce the impact of intermittent or reduced availability of certain products."
Dr. Carlson says it's tough to know when conditions will improve. 
Read More: World News | Entertainment News | Celeb News