Stomach pain is one of the most common complaints among kids, but most parents have trouble pinpointing the cause and taking action to relieve it, a new poll found.
The C.S. Mott Children's Hospital in Ann Arbor, Michigan, polled 1,061 randomly selected adults with kids between the ages of three and 10 in February 2023.
One in six parents (17%) said their kids complain of stomach pain on at least a monthly basis, but only 58% of those parents brought up the issue with their pediatricians, according to a press release discussing the study's findings.
WEIGHT LOSS SURGERIES ON THE RISE AMONG KIDS AND TEENS, STUDY FINDS: 'ALTERING THE ANATOMY'
Only one in three parents said they can determine with confidence when tummy pain is a warning sign of a serious condition in their children. 
A majority of the parents who answered the survey (73%) chalked up their kids' stomach pain to gastrointestinal issues such as gas, indigestion and constipation, while 35% suspected a virus or infection, the survey found.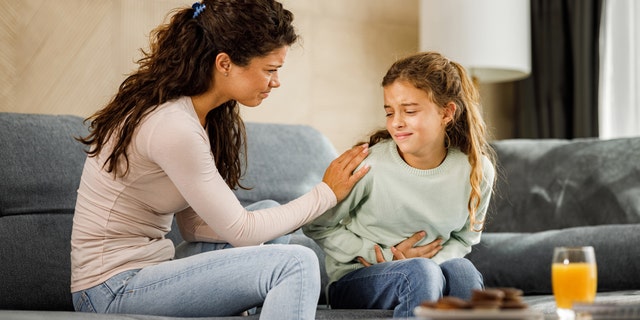 Around 30% will give their children an over-the-counter product in an attempt to relieve the pain.
About a quarter of parents said they believe their child's stomach pain is due to anxiety, a desire for attention or an attempt to avoid school.
In cases in which the parents think the belly pain is caused by anxiety, 71% of them said they have attempted to discuss the source of anxiety with their child.
BE WELL: IMPROVE YOUR GUT HEALTH WITH 5 TOP TIPS FROM A NUTRITIONAL THERAPIST
Fifty-three percent of the parents said they do breathing and relaxation exercises, another 53% attempt to distract the child and 16% allow the child to skip school and activities, the poll found.
"Though it may end up being anxiety-related, it is definitely not up to a parent to decide that." 
Symptoms most likely to prompt parents to call a doctor or seek emergency care included blood in the child's stool (84%), a "sharp," knife-like pain (64%), six or more hours of continued pain (64%), a swollen (63%) or hard (49%) belly, fever (22%) or diarrhea (8%).
Potential causes of kids' belly pain
Belly pain is usually a warning sign, said Dr. Marc Siegel, professor of medicine at NYU Langone Medical Center and a Fox News medical contributor.
Siegel was not involved in the poll.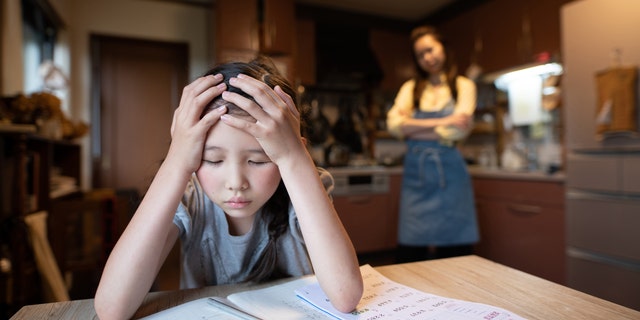 "Though it may end up being anxiety-related, it is definitely not up to a parent to decide that," he told Fox News Digital. 
"Anxiety is what we call a diagnosis of exclusion in the face of somatic complaints."
Dr. Shana Johnson, a physical medicine and rehabilitation physician in Scottsdale, Arizona, who was also not involved in the poll, said she's had firsthand experience with how kids' stomach pain can stem from emotional health concerns.
"My son's stomach pain was confirmed to be stress-induced."
Johnson's son, who is neurodivergent, has struggled with stomach pain and reflux over the years, she shared with Fox News Digital. During a recent two-year period, he vomited twice per week because of reflux. 
"My son's stomach pain was ultimately confirmed to be stress-induced — the daily stress of trying to 'fit into' the neurotypical box," Johnson said. 
"His reflux and stomach pain are his stress 'biomarker' — it tells me when I am pushing him too hard to fit into the box."
The brain and the digestive tract, or "gut," talk to each other through the brain-gut connection, she explained. 
"This relationship connects the emotional and cognitive parts of the brain with gastrointestinal functions," said Johnson. 
CLICK HERE TO SIGN UP FOR OUR HEALTH NEWSLETTER
"In response to emotions or stress, the brain communicates with the intestinal tract."
Suffering a stomach ache amid worry is an accurate message — but daily cramping, diarrhea and pain reflect dysfunction in the brain-gut system, she explained.
"Parents are wrong to ignore it."
"The dysfunction results in hypersensitivity (pain and discomfort) and changes in motility (e.g., diarrhea and constipation)," Johnson said.
Some potential physical causes of stomach pain in kids are food intolerance or allergy, acid reflux (a digestive issue in which stomach acid or bile irritates the food pipe lining) or an underlying pathology that needs further investigation, Siegel said.
"Either way, parents are wrong to ignore it," said Dr. Siegel. 
"You need a pediatrician you can trust, and this is one of the things they need to be informed about," he said. 
Read More: World News | Entertainment News | Celeb News