Environmental advocates have recently been protesting at sporting events across the United Kingdom.
Wimbledon, this year's third Grand Slam tennis tournament, is set to begin on July 3, 2023.
Event coordinators have already increased the security plans for Wimbledon in an effort to prevent protests similar to what has been happening at other British sporting events. 
The All England Club has increased its security plans for Wimbledon in coordination with London police and other agencies ahead of the beginning of play next week, in part as a result of protests at other major sports venues in Britain this year.
On Wednesday in London, environmental activists ran onto the field and briefly disrupted play about five minutes after the start of the second Ashes cricket test between England and Australia. Players from both teams intervened when the protesters attempted to spread orange powder on the field.
"Based on what has happened at other sporting events, and on the advice from our key partners, we have reviewed our security plans, which have now been uplifted for The Championships accordingly," All England Club operations director Michelle Dite said Thursday.
WIMBLEDON TEAMS UP WITH IBM TO INTRODUCE GENERATIVE AI VIDEO COMMENTARY AND HIGHLIGHT CLIPS
"We have plans in place to mitigate the risks working in partnership with specialist agencies and the Metropolitan Police and should an incident occur the appropriate specialist teams will respond," Dite said.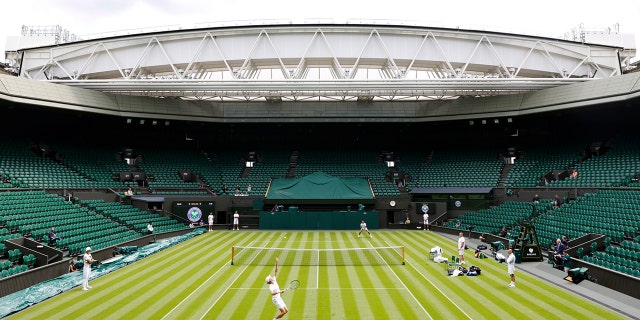 WIMBLEDON CHAMPION ELENA RYBAKINA WITHDRAWS FROM EASTBOURNE INTERNATIONAL DUE TO VIRAL ILLNESS
Earlier this month, protesters held up the England cricket team bus briefly during the test against Ireland in London. Activists also have targeted Premier League soccer matches, the Premiership rugby final at Twickenham, and the world snooker championship in Sheffield this year.
Play at Wimbledon, the year's third Grand Slam tennis tournament, begins on Monday.
"The safety and security of all our players, colleagues and visitors is paramount," Dite said. "Throughout the year, we work closely with the Metropolitan Police and other relevant organizations to ensure that The Championships is as safe and secure as possible and that our plans and measures are commensurate with the threat level and prevailing risks."
Read More: World News | Entertainment News | Celeb News