WWE fans in London Saturday will have to make way for the megastar when LA Knight comes to the ring as one of the seven participants in the Money in the Bank ladder match.
Money in the Bank, the premium live event named after the unique match, will see either LA Knight, Logan Paul, Ricochet, Shinsuke Nakamura, Santos Escobar, Butch or Damien Priest climb the ladder and retrieve the briefcase hanging over the ring. Inside the case contains a contract that earns the winner the right to a WWE championship match any place and any time for up to one year.
LA Knight has ridden a wave of popularity since he rejected his moniker of Max Dupri upon his WWE call-up from NXT and went back to his current name. His mic skills have been lauded by most pro wrestling fans as a mix between The Rock and "Stone Cold" Steve Austin and with fans cheering him on from arena to arena in recent months, he was able to qualify for a match when he defeated Montez Ford on June 2.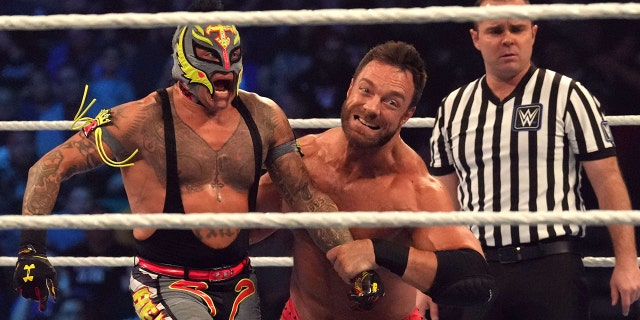 However, LA Knight's demeanor does not sit well with everyone. The 40-year-old Maryland native has been through the pro wrestling circuit, having spent time in National Wrestling Alliance-affiliated territories, Full Impact Pro and then as a champion at Impact Wrestling before he got a real shot at NXT and later WWE.
He told Fox News Digital in a recent interview he was not worried about detractors who say his time has passed on.
"It's never been my time," he said. "So, I don't know. But to me, you can think anything you want. My time definitely hasn't passed, I'll tell you that, because with each and every year … first of all, my body is in good of shape as it's ever been. I'll damn sure say that my body is in better shape than it was 10 years ago. And people might be like, oh OK, that's just his platitudes or whatever but it's the truth. When I just look at the way I'm taking care of myself. … I never had any major injuries (knock on wood). I've never had any surgeries. And a lot of that comes with the fact that I work in a way that keeps me safe. I make everything make sense. I make everything work. I don't take stupid, unnecessary risks.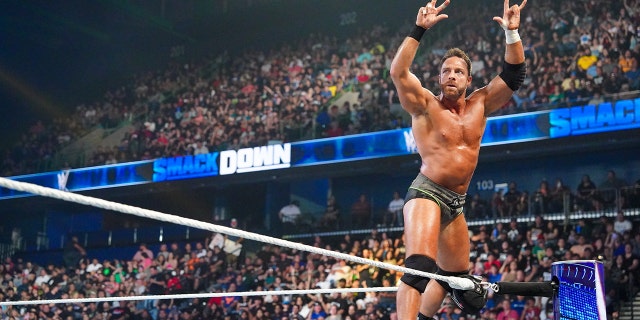 "But, at the same time, whether you think my time is passed or it's not my time yet – I don't care. I'm going to do my thing and I'm going to make it my time. None of this is supposed to be my time. None if this is supposed to be for me. I'm not supposed to be getting the reactions I'm getting right now and I'm getting them.
"One of the names I used to be called is 'The Defiant One.' And that's for many reasons. Some of that is because in the past, maybe I wasn't so good with authority – I'm talking like behind the scenes. And that's a thing, sure. I get very passionate about what I do and sometimes that shows its way in anger and that's just me being really into this and wanting this to be as great as possible. And whether other people have that same feeling for what I do – that's OK, because I'm going to make you feel it one way or the other. I've made everybody feel that one way or the other. So whether they want to move me or cheer me or whatever, I'm going to make everybody make noises and that's what's going to happen."
LA Knight got a taste of social media virality a few weeks ago on "Monday Night Raw," when he came down to address Paul, who had inserted himself into the Monday in the Bank match without going through a qualifying match. Paul has impressed the pro wrestling fan base with acrobatic moves and has been the talk of the pro wrestling world with appearances at WrestleMania and the Royal Rumble.
However, he Is not upset with Paul just giving himself an opportunity to win one of the coveted matches in WWE. In fact, he welcomes the YouTube sensation and the audience that comes with him.
HULK HOGAN REVEALS HOW CLOSE HE WAS TO RETURNING TO WWE AT THIS YEAR'S WRESTLEMANIA
"I see the draw. I'm not blind or ignorant to any of that because, I mean, obviously, look, you've got the reach of his entire following on YouTube and social media and all that stuff," he said. "I was recently at an event that was this boxing match with all these people who were from like YouTube and social media and it was like a whole other world. But here they are and they had a completely full arena. It's like, wow, like this is a completely different audience. I feel like a lot of those people don't watch television. 
"So, it's like, all right, well, now there's a chance to co-mingle the two. You've got your WWE audience and now you've got this big social media audience that he has. So, I can appreciate that and I can see that. And, at the same time, you're talking about six guys well qualified, paid the dues to get into Money in the Bank and he just waltzes in. But at that point it's also, 'all right, well, I've already hit strike one on 'em.' I mean you're talking Monday night and all of a sudden it's me just talking trash to him and that clips has been all over the internet. So that's step one. Now, we get to Monday in the Bank and it's time to do the real damage. And when that then gets to reach his audience, hey, now we're talking."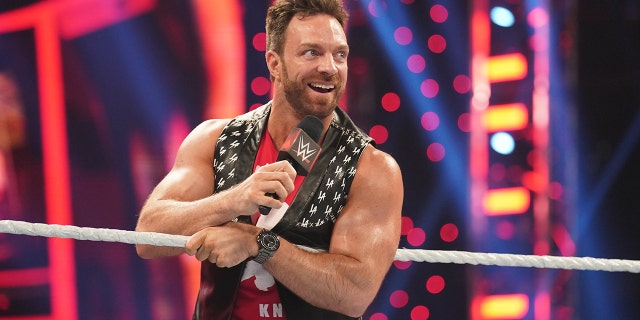 LA Knight's voice has been the difference in his rise in WWE. His ability to put other pro wrestlers in their place with quick-witted insults along with fans to go, "Yeah," a la Stone Cold's "What?!" back in the latter part of the Attitude Era and the start of the Ruthless Aggression Era in WWE is a call back that clearly resonates with fans hoping to feel that way about pro wrestling again.
'STONE COLD' STEVE AUSTIN TALKS STATE OF PRO WRESTLING, 'HONORED' TO HAVE LASTING IMPACT ON WWE
The one-time Impact World Champion admitted his character is a bit of a cosmic gumbo of voices from the industry's legendary past as well as some of those outside the ring.
"Some of them make sense and some of them don't. I've seen people say Macho Man. I've seen people say Ric Flair," he told Fox News Digital. "I've seen people say, some weird ones I can't even remember. But all of that's in there, man. When I was in high school, Rock and Austin were our bread and butter. When I was a little kid, (Hulk) Hogan was the deal. Flair's always been an omnipresent figure as far as that's concerned. But I mean there's also like pop culture influences, but if you go back in the wrestling realm, you're look at Jake the Snake. There's definitely some influence there. There's Macho Man all that kind of stuff.
"It's never been my time."

— LA Knight to Fox News Digital
"But people make comparisons and that's fine. And maybe some people want to say, you know, he's dime store this, that or whatever. You can think whatever you want but at the end of the day, I'm me doing my own thing. My talent package is completely different and unique from any of those guys. Is there some influence there? Sure there is. But you look at Hogan and you look at 'Superstar' Billy Graham. Is there influence there? You bet your a–.
"And then you look at even outside of the wrestling sphere, you want to look at Kobe Bryant and Michael Jordan? Cool. I'll be the Kobe Bryant to Michael Jordan. Hell, maybe I'll be the Michael Jordan of Kobe Bryant. We switch it around because my goal is to not be under them. My goal is to not be just something where I'm like, 'Oh, yes, my lord.' For me, it's I want to be above and beyond any and all of that. I want to be the guy who's in the conversation of maybe he's one of the best."
WRESTLING LEGEND BOOKER T BACK ON HUNT FOR WWE TREASURES, NAMES HIS 'HOLY GRAIL'
Should LA Knight be the one to grab the briefcase and cash in, he could try to defeat Roman Reigns for his WWE Universal Championship reign that has lasted more than 1,000 days. Or, he could try for Seth Rollins – who has been defending his new World Heavyweight Championship all over the place, including at Saturday's premium live event against Finn Balor. LA Knight could also follow in the footsteps of Austin Theory and instead go for a mid-card belt. Could Gunther's Intercontinental Championship be in jeopardy?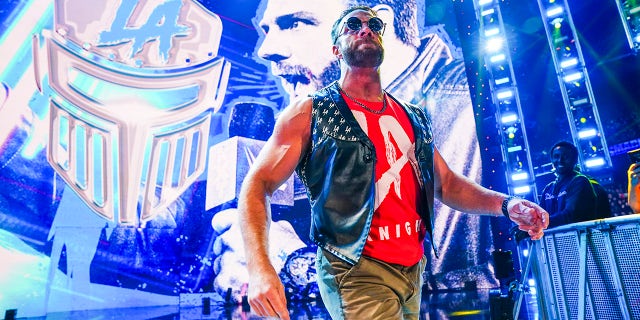 "You're giving me all some great options here – they all have their plus sides. But if I sum it up and I just go ahead and cut right to the chase, the best possible storyline, the best possible outcome for me in my mind, now whether it gets there or not, first of all, I've got to get the case. But for me, it's being the disruptor," LA Knight told Fox News Digital. 
"And what I mean by that is the guy who not only ends up being WWE champion but also ends up being the guy who disrupts a multiyear reign. That's something to talk about. That's something that put a notch under the belt. That's something to possibly prove the exact point of what I was talking about before being the best at what I do."
Money in the Bank will take place at the O2 Arena in London on Saturday. It will be the first major event held in the city since Insurrextion in 2002. The event can be seen on Peacock starting at 3 p.m. ET.
Here's the card for the show:
Ricochet vs. Shinsuke Nakamura vs. LA Knight vs. Santos Escobar vs. Butch vs. Damian Priest vs. Logan Paul in the Money in the Bank men's ladder match.
Zelina Vega vs. Becky Lynch vs Zoey Stark vs. Bayley vs. Iyo Sky vs. Trish Stratus in the Money in the Bank women's ladder match.
Cody Rhodes vs. Dominik Mysterio (with Rhea Ripley) in a singles match.
Seth Rollins (c) vs. Finn Balor in a singles match for the World Heavyweight Championship.
The Bloodline vs. The Usos in a "Bloodline Civil War" tag-team match.
Ronda Rousey and Shayna Baszler (c) vs. Liv Morgan and Raquel Rodriguez in a tag-team match for the Women's Tag Team Championship.
Gunther (c) vs. Matt Riddle in a singles match for the Intercontinental Championship.
Read More: World News | Entertainment News | Celeb News