LSU Tigers fans were jumping for joy in Omaha at the end of the fifth inning as their team was up, 10-2, in the decisive Game 3 of the College World Series against the Florida Gators on Monday night.
Fans were hugging each other, screaming at the top of their lungs and enjoying what would become the team's first championship since 2009.
But not every Tigers fan was having the best time when the final out of the frame was made at Charles Schwab Field. Thanks to ESPN's broadcast during the final moments, we saw one woman go viral for her lack of excitement.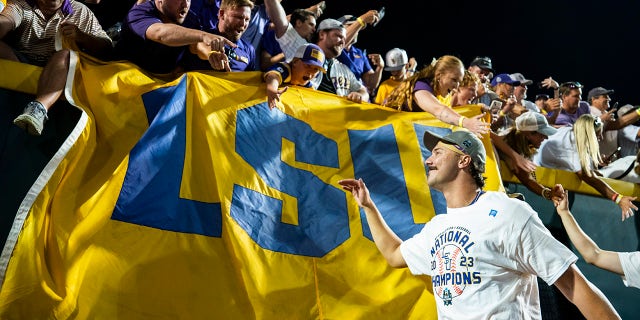 The ESPN cameras cut to a man who was wearing a purple LSU shirt and appeared to want a fist-bump from a woman that was next to him.
Instead, she clearly dissed him, motioning with her hand in front of the man's face with displeasure written all over her face.
But the man never stopped trying to get a good reaction out of the woman, which led to her appearing to say "no" as the man continued to talk to her.
LSU STAR DYLAN CREWS TAKES PAGE OUT OF ANGEL REESE'S BOOK AT COLLEGE WORLD SERIES
The woman, with her arms crossed, eventually pointed at the field while talking with the man before cameras cut away.
Though it's unclear what exactly was said by the man to the woman, the latter clearly didn't want to pay it any mind.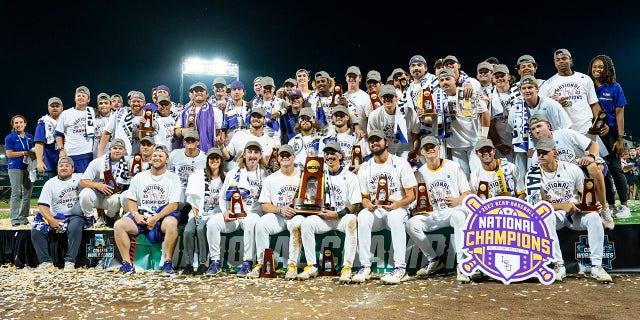 Nonetheless, that LSU fan was loving the result of this contest as the Tigers won big, 18-4, just one day after the Gators destroyed them, 24-4, to stay alive in the best-of-three final series.
With the victory, the Tigers became the first school ever to win a baseball and basketball title in the same year as the Lady Tigers took down the Iowa Hawkeyes to win the NCAA women's basketball tournament.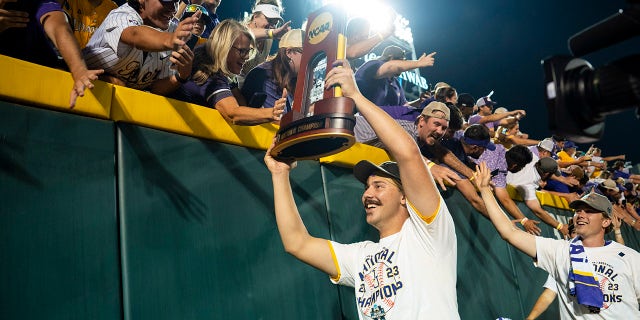 The Tigers' victory on the diamond marked their seventh title all-time.
Read More: World News | Entertainment News | Celeb News