Shane van Gisbergen won his NASCAR Cup Series debut on a rainy Sunday in downtown Chicago, chasing down Justin Haley and Chase Elliott in a memorable finish to the series' first street race.
After passing Elliott, van Gisbergen dueled with Haley in the final laps before the three-time Supercars champion moved in front for good. Haley held on for second, and Elliott was third.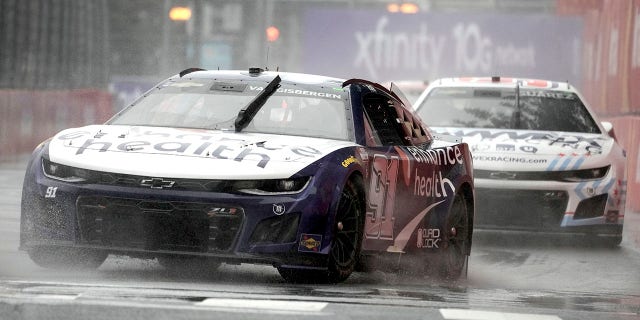 The 34-year-old van Gisbergen, a New Zealand native, got a chance to drive the No. 91 Chevrolet in Chicago as part of Trackhouse Racing's Project 91. The goal for the team is expanding its global reach.
Van Gisbergen won his first Supercars championship in 2016 and added two more the past two years. He was helped in his NASCAR debut by Darian Grubb, who was the crew chief for Tony Stewart when he won the Cup Series championship in 2011.
The race was scheduled for 100 laps and 220 miles, but it was shortened because of fading sunlight after the start was delayed for more 90 minutes because of a historic rainfall that flooded the course. The last half of the Xfinity Race, set to resume after it was suspended Saturday because of lightning, was canceled.
NASCAR CONTRACTOR DIES OF ELECTROCUTION SETTING UP CHICAGO STREET RACE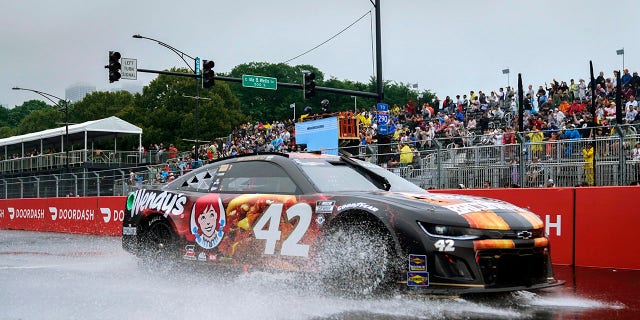 Right before the scheduled start, as the rain persisted, pole-sitter Denny Hamlin took to Twitter to lobby for a delay, and Noah Gragson posted video of one of his tires floating on pit road. NASCAR then decided to allow the drivers to return to their haulers.
The weather eventually cleared up, but there were puddles on the course when the race began. Even as it started to dry out — and teams started breaking out their slick tires — water splashed everywhere whenever a driver slid into a tire barrier.
Gragson, Kyle Busch and Joey Logano all visited the rows of tires in Turn 6. Hamlin and Elliott got into the tire pack in Turn 2. Ricky Stenhouse Jr. was hit by Bubba Wallace and got stuck in the tire barrier in Turn 1 late in the race.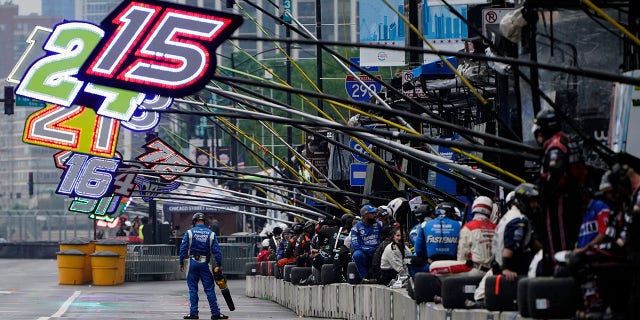 There also was a massive pileup involving 14 cars on Michigan Avenue on the 50th lap, clogging the course and almost assuredly drawing a smile from regular Chicago drivers familiar with the area.
Read More: World News | Entertainment News | Celeb News