New York Yankees pitcher Domingo Germán secured his spot in the history books Wednesday night as he pitched the MLB's first perfect game since 2012 and the league's 24th overall.
The right-hander retired every Oakland batter during the 11-0 away victory over the Athletics.
It was the first perfect game in the majors this year and the MLB's first since Seattle Mariners ace Félix Hernández accomplished the feat against the Tampa Bay Rays on Aug. 15, 2012.
"So exciting," Germán said after the game, via a translator. "When you think about something very unique in baseball, not many people have an opportunity to pitch a perfect game. To accomplish something like this in my career is something that I'm going to remember forever."
PEPSI UNVEILS SODA-INFUSED KETCHUP THAT WILL BE AVAILABLE AT MLB GAMES ON FOURTH OF JULY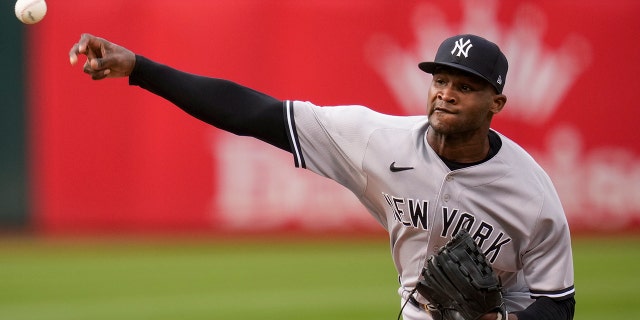 Germán became the fourth Yankee to pitch a perfect game, joining Don Larsen (1956), David Wells (1998) and David Cone (1999). Larsen's performance notably came in Game 5 of the 1956 World Series against the then-Brooklyn Dodgers. It was the 13th no-hitter in Yankees history.
The Yankees became the first franchise with four perfect games, with the Chicago White Sox at three.
Germán also earned his 500th career strikeout during the contest.
His efficient performance included throwing 72 strikes on 99 pitches – 51 curveballs, 30 fastballs, 17 changeups and one sinker.
REDS' TOP PROSPECT ELLY DE LA CRUZ HITS FOR CYCLE IN JUST HIS 15TH MLB GAME
He went to three balls on a batter just twice.
Germán fell behind Ryan Noda 3-1 in the fourth and Jonah Bride by the same count in the eighth.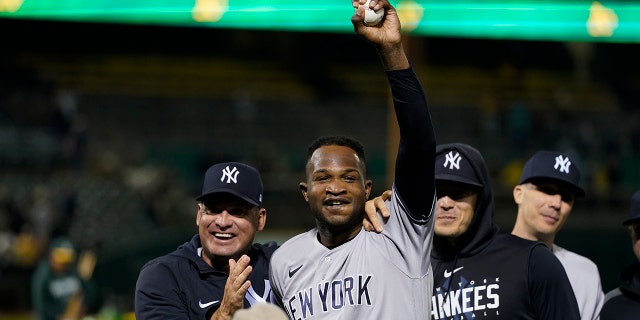 Germán struck Noda out on consecutive curveballs, and he followed with three straight curves to Bride, the third resulting in a groundout.
"It was just so fun to watch him do that and go to work. We've seen him flirt with outings like that over time," Yankees manager Aaron Boone said, referencing Germán's no-hit bid in July 2021 that was spoiled in the eighth inning.
He added: "When he gets rolling like that he's just so fun to watch at his craft because he's so good at commanding all of his pitches. His curveball was great tonight, but because his changeup and his fastball were good, too, it made that curveball even more special."
The crowd of 12,479 leaped on its feet for the ninth inning as Germán looked to finish what he started.
Two quick outs left Germán one batter, Esteury Ruiz, standing in the way of the perfect game.
When Ruiz grounded out to third baseman Josh Donaldson, New York's dugout and bullpen emptied, and Germán's teammates raced to the mound to celebrate.
"That last inning was very different — very different. I felt an amount of pressure that I've never felt before," Germán said. "I'm trying to visualize what I want to execute there. At the same time, I don't want to miss. So much pressure, but yet so rewarding."
He added: "The key there was not to overthrow,".
After the contest, A's leadoff hitter Tony Kemp said Germán's curveball was the element that set up everything else.
"He threw that curveball in any count that he wanted to," Kemp said. "It was spinning differently and moving differently. He put his fastball where he wanted to. Changeup as well. He just kind of mixed them. Got a couple of good swings off him, but no results."
MLB COMMISSIONER ROB MANFRED SAYS A'S FANS 'REVERSE BOYCOTT' DOESN'T MAKE UP FOR 'A DECADE WORTH OF INACTION'
The perfect game came six days after Germán allowed a career-high 10 runs (eight earned) and four homers over 3 1/3 innings in a loss to the Mariners at home.
"This has not been an easy week or time for him," Boone said. "For him to go out there and paint that masterpiece was really just a lot of fun just to be able to watch."
Giancarlo Stanton homered for the first time in more than two weeks and drove in three runs, and Donaldson added three RBIs against his former team.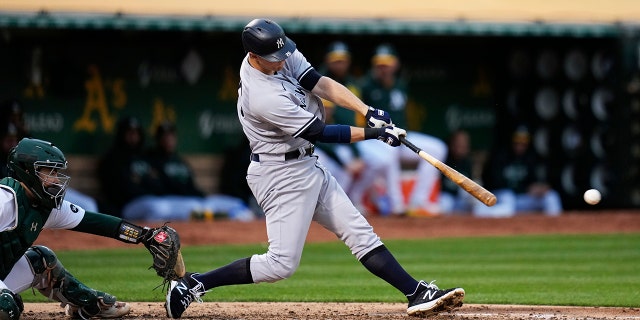 Higashioka had an RBI double, then scored when Anthony Volpe reached on an infield single and Sears flipped the ball wildly into foul territory. Volpe took second on the error, stole third and then scored on DJ LeMahieu's single.
Isiah Kiner-Falefa, who walked leading off the inning and scored, capped the uprising with a two-out RBI single.
The Yankees were winless in six previous outings against the A's, who hold the worst record in the majors at 21-61. New York has won 15 of 21 games against the A's going back to Aug. 31, 2019.
The contest marks quite a personal turnaround for Germán, who after a successful 2019 season with the Yankees was put on administrative leave late that season amid an MLB investigation into an alleged domestic violence incident involving his girlfriend.
He then missed the entire pandemic-shortened 2020 season and playoffs as he served an 81-game suspension. He returned in February 2021.
Germán's record game also came off a pair of terrible starts and after the 30-year-old pitcher served a 10-game suspension last month. He was previously ejected from a game in Toronto for using an illegal sticky substance on the mound.
"I'm just happy for Domingo. He's had a rough last couple starts and he's kind of been dragging a little bit," Yankees catcher Kyle Higashioka said. "I kind of always felt like of anyone, he has a really good chance to do something like this and for it all to come together tonight is just amazing."
Fans seemingly echoed Higashioka's sentiments as Germán was loudly cheered throughout the entire contest, a much-needed pick-me-up two days after the pitcher experienced the death of a family member.
"Unfortunately, two days ago an uncle of mine passed away and I cried a lot yesterday in the clubhouse. So I had him with me throughout the whole game. I was thinking about him," Germán said. "This game is a tribute to him. He would have been so happy. He was always someone that really brought a joy to our family and it happened for him to watch it this way, from up there."
The Associated Press contributed to this report.
Read More: World News | Entertainment News | Celeb News