An American man who videotaped a tourist defacing the ancient Colosseum in Rome, Italty, said he was "stunned" to see the vandalism unfold in real time.
The message, "Ivan+Haley 23," was carved into a wall inside the Colosseum in an incident filmed by fellow tourist Ryan Lutz, of Orange, California, whose video went viral on social media and was ultimately picked up by Italian officials.
Lutz, who posted the video on YouTube and Reddit, told The Associated Press he was "dumbfounded" that the tourist would deface the well-known monument.
Italian Culture Minister Gennaro Sangiuliano described the carving as "serious, undignified and a sign of great incivility that a tourist defaces one of the most famous places in the world, the Colosseum, to engrave the name of his fiancée."
TOURIST DEFACES ROME'S ANCIENT COLOSSEUM, ENGRAVES NAMES ON WALL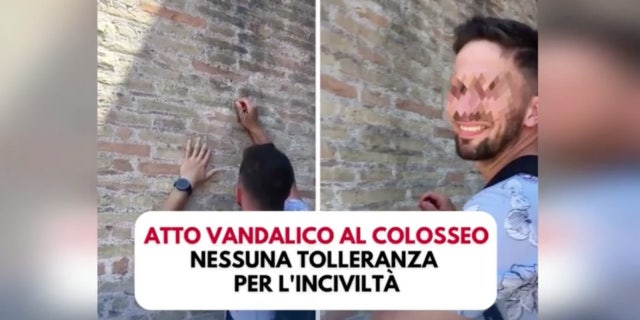 "I hope that whoever did this will be identified and sanctioned according to our laws," Sangiuliano tweeted.
Tourism Minister Daniela Santanche said she hoped the tourist would be sanctioned "so that he understands the gravity of the gesture." She also called for respect for Italy's culture and history and said, "We cannot allow those who visit our nation to feel free to behave in this way."
According to Italian news agency ANSA, this was the fourth time this year that graffiti was reported at the Colosseum. The suspect in the latest incident could face $15,000 in fines and up to five years in prison.
ROME'S MAYOR BLASTS 'ABSURD' CLIMATE PROTEST AT TREVI FOUNTAIN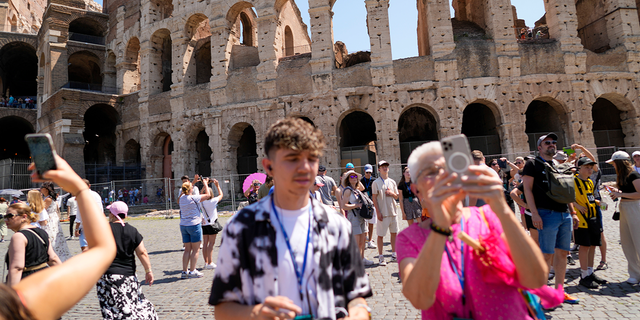 Lutz, who is on a two-month backpacking trip through Europe, had just finished a guided tour of the Colosseum on Friday when he witnessed the man "blatantly carving his name" into the wall – an incident that was so shocking to him that he began recording.
"And as you see in the video, I kind of approach him and ask him, dumbfounded at this point, 'Are you serious? Are you really serious?'" Lutz recalled. "And all he could do is like smile at me."
Lutz said he alerted a guard to the situation, but that the guard and his supervisor did nothing, even after Lutz identified the man and offered to share the video. He decided to publish the video online the morning after the incident once he had calmed down.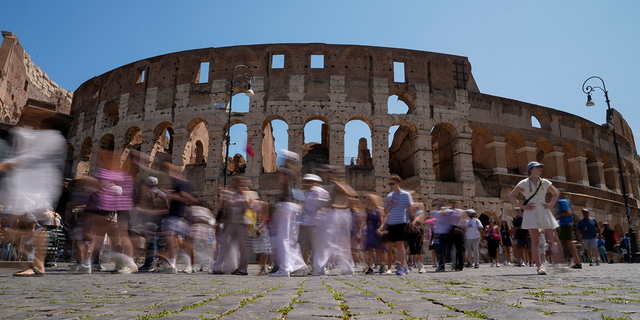 Lutz, who says he appreciates graffiti and art, said "carving your name seems like a pretty selfish act," adding that people visiting foreign countries cannot repay their hosts "with blatant disrespect like this."
In 2014, a Russian tourist was hit with a fine of 20,000 euros, or $25,000, and received a four-year suspended jail sentence for engraving a big letter 'K' on a wall of the Colosseum.
Two American tourists were cited the following year for aggravated damage after they carved their names in the monument.
The Associated Press contributed to this report.
Read More: World News | Entertainment News | Celeb News