A new report from France's Ministry of Interior quantifies the damage done after nearly a week of protests in response to the police killing of a teen of North African heritage. 
The report, obtained by the French newspaper Le Parisien, recorded 5,662 vehicle fires and more than 1,000 damaged buildings. 
Since rioting first broke out on Tuesday, police have made 3,354 arrests – 1,282 of which were in the Paris metro area alone, according to the report. 
More than half of those arrested had no criminal record and were not known to police prior, Interior Minister Gérald Darmanin said. The average age of those arrested is 17. 
ARRESTS PLUMMET IN 6TH NIGHT OF FRANCE RIOTS AS INTERIOR MINISTER BLASTS PARENTS FOR LETTING KIDS PROTEST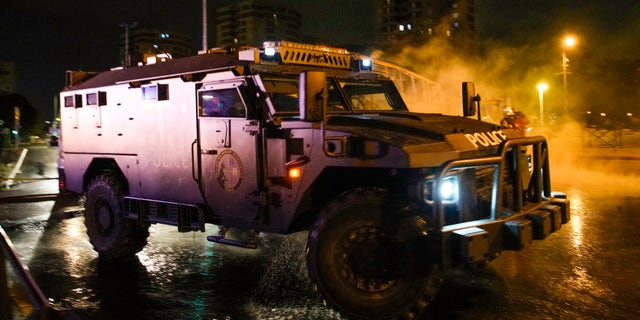 Meanwhile, there have been 254 attacks on law enforcement premises with more than 720 personnel injured, the report said. More than 1,000 buildings have been burned or damaged. 
The unrest was most severe on the evenings of Thursday, Friday and Saturday. In this time span, there have been approximately 2,186 arrests, 3,500 burned vehicles, and 168 attacks on police premises.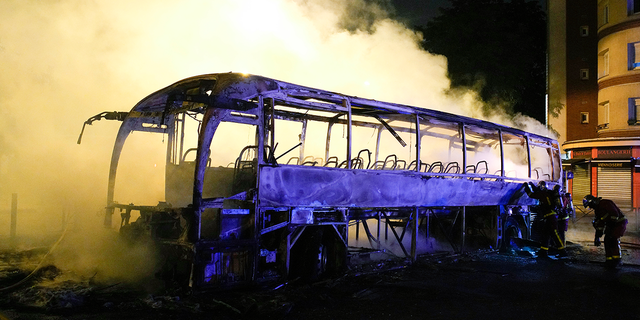 Demonstrations have subsided over the past two nights as more police have been deployed to clamp down on the unrest. 
The unrest, which appeared to be easing on Sunday night, was driven by a mainly teenage backlash in the suburbs and urban housing projects against a French state that many young people with immigrant roots say routinely discriminates against them. 
FRANCE VIOLENCE: LEADERS WORK OUT RESPONSE TO RIOTS, VICTIM'S GRANDMOTHER CALLS FOR END TO UNREST
There has been little in the way of organized protests beyond a march last week for Nahel, the 17-year-old of Algerian descent who was killed last Tuesday in the Paris suburb of Nanterre. Instead, the anger has manifested in young people targeting police, with both sides using increasingly aggressive tactics.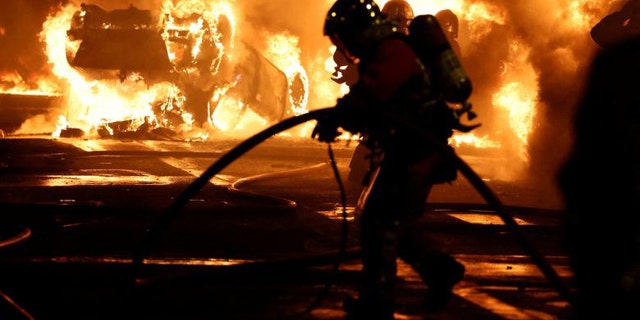 French President Emmanuel Macron was meeting Tuesday with mayors of 220 towns from across the country. Across France, 34 buildings — many of them linked to the government — were attacked from Sunday into Monday.
Macron last week blamed social media for the spread of the unrest and called on parents to take responsibility for their teenagers. Justice Minister Eric Dupond-Moretti told France Inter radio that parents who abdicated that responsibility, "either through disinterest or deliberately," would be prosecuted.
The Associated Press contributed to this report. 
Read More: World News | Entertainment News | Celeb News