India's top opposition leader Rahul Gandhi visited Thursday communities hit by weeks of violence and living in relief camps in a remote northeastern state as a shootout there claimed two more lives.
The shooting erupted earlier in the day between members of the majority Meitei Hindu and the minority Kuki community on the outskirts of Imphal, Manipur's state capital. The shooting also left four wounded, according to an army officer who spoke on condition of anonymity as he was not authorized to talk to reporters.
At least 100 people have been killed in ethnic clashes in Manipur since May 3, thousands of homes have been burned and shops and businesses vandalized. Authorities have moved nearly 40,000 people to safer places.
INDIA TEMPLE CHARIOT FIRE CAUSES 6 DEATHS, 10 INJURIES
Gandhi and supporters of his opposition Congress party headed out by road on Thursday to one of the worst-hit areas, the district of Churachandpur.
But police blocked their passage for hours, citing security concerns amid a protest by some women groups opposing Gandhi's visit, said Sambit Patra, a spokesman for the governing Hindu nationalist Bharatiya Janata Party.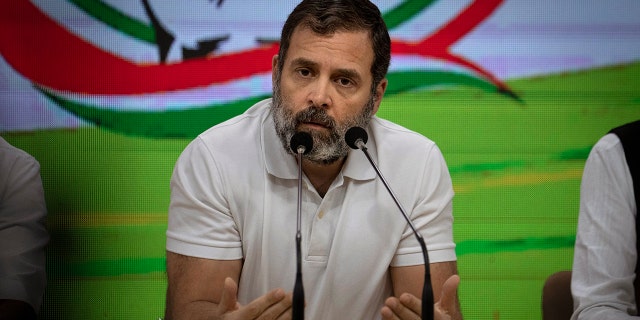 When dozens of Gandhi's supporters refused to turn back, police fired tear gas, according to footage broadcast by TV stations.
INDIA PROBES BRIBERY ALLEGATIONS THAT A REGULATOR HELPED SWITCH TEST SAMPLES OF POSSIBLY TOXIC COUGH SYRUP
Congress party president Mallikarjun Kharge accused the government of intentionally stalling a "compassionate outreach" by Gandhi. "This is totally unacceptable and shatters all constitutional and democratic norms," Kharge tweeted.
Gandhi later accepted a police offer to travel by helicopter to Churachandpur, ending the standoff.
The violence started last month after protests by more than 50,000 Kukis and members of other predominantly Christian tribal communities in Churachandpur and adjoining districts in Manipur.
They oppose the majority Meitei Hindu community's demand for a special status that would give it benefits, including the right to farm on forested land, cheap bank loans, health and educational facilities, and a specific quota of government jobs.
The Kuki leaders say the Meitei Hindu community is comparatively well-off and that granting them more privileges would be unfair. The Meitei Hindus say employment quotas and other benefits for the Kuki tribespeople would be protected.
Two-thirds of the state's 2.5 million people live in a valley that comprises roughly 10% of the total area of Manipur. Along with the majority Meitei Hindus, the minority predominantly Christian Kukis and other tribes, the population of the state also has 8% ethnic Muslims.
Read More: World News | Entertainment News | Celeb News