Egypt's new Free Current coalition spoke out against President Abdel Fattah el-Sissi's government Monday in a rare act of dissent.
Egypt has detained thousands of Muslim Brotherhood supporters and other unfavored political operatives since el-Sissi's 2013 ascension to power.
The el-Sissi government's actions "represent a severe danger to the political and economic future of our country," Free Current spokesman Emad Gad said at a news conference.
A new coalition of Egyptian political parties publicly criticized the country's current government Monday for persecuting politicians, in a rare act of political dissent.
In a news conference Monday, Emad Gad, a spokesman for the Free Current coalition, said the practices of President Abdel Fattah el-Sissi's government "represent a severe danger to the political and economic future of our country."
Since coming to power in 2013, el-Sissi's government has detained thousands of suspected supporters of the Muslim Brotherhood, the Islamist group banned as a terrorist organization, and also secular activists and dissidents.
EGYPT'S PRESIDENT BESTOWS INDIAN PRIME MINISTER NARENDRA MODI WITH THE COUNTRY'S HIGHEST HONOR
Rights groups and former prisoners have accused the Egyptian government of deploying brutal tactics to curb dissent, such as forced disappearances, torture and long-term detentions without trial.
The Free Current coalition was formed in June this year, comprised of an array of mostly liberal opposition parties and figures.
One of its leading figures, Hashim Kassem, was detained last week following a public spat with a former government minister. According to The Egyptian Initiative for Personal Rights, a leading rights organization, Kassem will be tried next month with several charges including slander, defamation, and assaulting a public servant.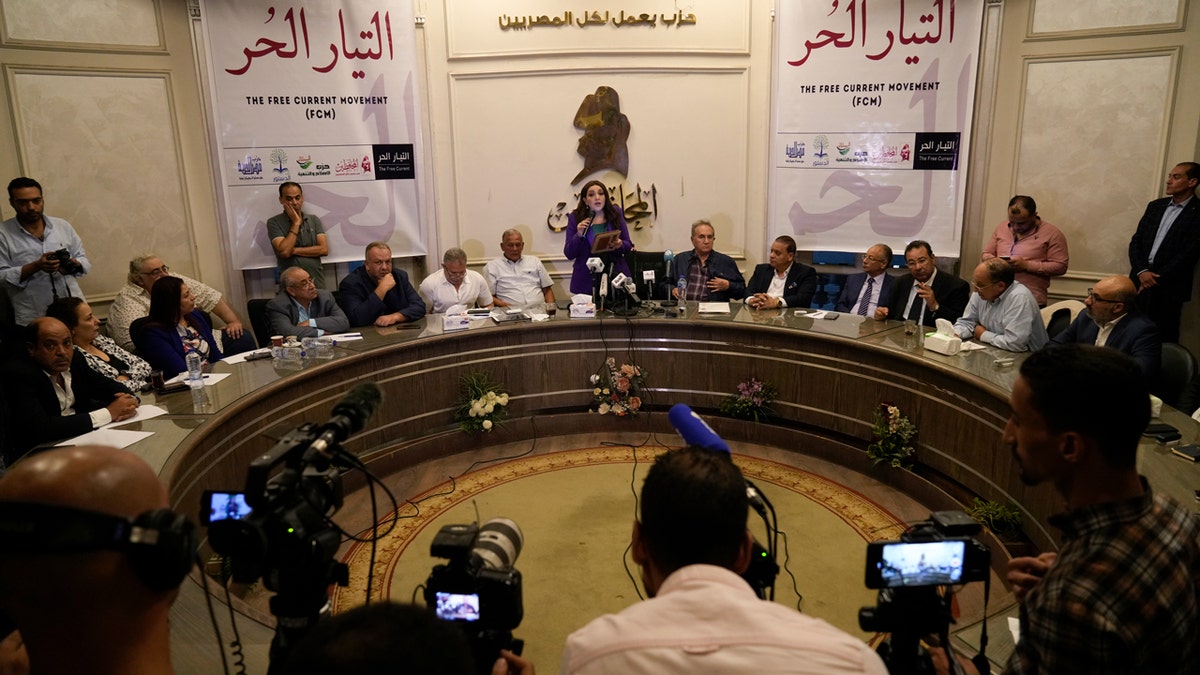 "We need a new president, a new government, and a new parliament," said Akmal Qortam, chairman of the Conservative Party and a member of the Free Current Movement who was also at the news conference.
The North African country is expected to hold presidential elections next year, with the vote widely expected to be a foregone conclusion in favor of the incumbent el-Sissi.
EGYPT'S PRESIDENT PARDONS PROMINENT RIGHTS ACTIVISTS
Egypt is also in the midst of an economic crisis, beset by price hikes and a depreciating currency. In July inflation was at a record high of 38.2%, according to data released by the state-run Central Agency for Mobilization and Statistics. Economists have been critical el-Sissi's management of Egypt's economy.
The country's rights record came under intense international scrutiny last year during its hosting of the international climate summit. One of the country's most high-profile detainees, rights activist Alaa Abdel Fatah, went on an extended hunger strike that purposefully coincided with the duration of the conference to draw attention to his detention.
In recent years Egypt has sought to improve its international image. El-Sissi's government has tried to launch what it called a "national dialogue" with well-known figures from society, although few known dissenters participated.
The government has also pardoned a number of high-profile detainees over past months. Chief among them is Patrick Zaki, a leading human rights defender, and Ahmed Douma, one of the Egyptian activists behind the 2011 anti-government uprising that was part of the Arab Spring.
Read More: World News | Entertainment News | Celeb News