GOP presidential candidate and former Vice President Mike Pence met with Ukrainian President Volodymyr Zelenskyy in Ukraine Thursday in a surprise trip. 
Pence broke with leading members of the Republican Party and said he remains committed to doing what he can to ensure Ukraine continues to receive the military support it needs to repel Russian forces and restore its sovereignty. 
"I truly believe it's in the national interest of the United States, and all of the free world, that the Ukrainian military prevail," he told reporters speaking from Ukraine, noting that Kyiv's success was a matter of U.S. national security. "The reality is that we're living in a time that seems to have unleashed the enemies of freedom around the world."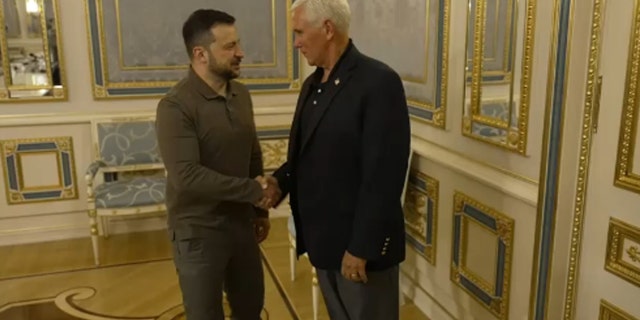 UKRAINIAN FAMILIES MOURN LOST LOVED ONES AS FORCES CONTINUE COUNTER-OFFENSIVE
"War is raging here in Ukraine. China continues its menacing behavior across the Asia Pacific. Now more than ever, we need to make sure that we provide the Ukrainian military what they need to push back on and defeat Russian aggression," he continued. "The free world will not stand for it."
Pence said he spent time with Ukrainian families and saw the direct impact and "pain" that Russia's war in Ukraine has caused, costing thousands of lives.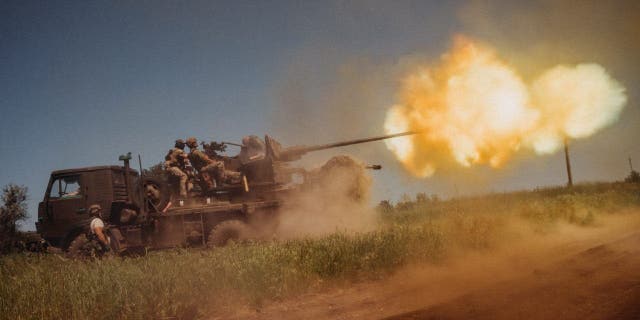 KREMLIN SAYS IT ONLY HITS 'MILITARY INFRASTRUCTURE' AFTER STRIKE AGAINST RESTAURANT IN UKRAINE
He also said the war has proven that Russia is not the military adversary that Western nations, including the U.S., believed it to be in the lead up to its invasion of Ukraine 16 months ago. 
"Russia has gone from being the second most powerful military in the world to being the second most powerful military in Ukraine. That's real progress on a strategic level," he added. 
Pence – who traveled to Ukraine with Samaritan's Purse – is the first GOP presidential candidate to travel to Ukraine to meet with Zelenskyy as the 2024 campaign kicks off.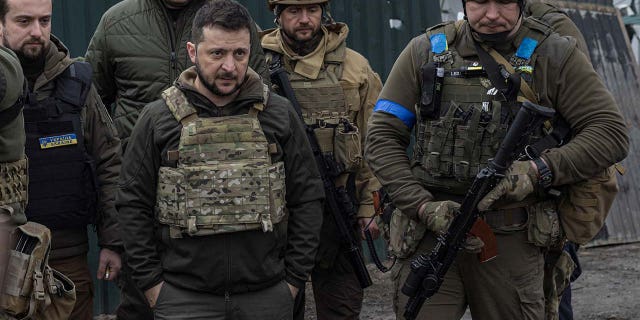 His chief republican opponent and former President Trump, has yet to back Ukraine in its war against Russia, instead saying he wants to see a negotiated solution – a proposal Zelenskyy has refused if it does not include the complete withdrawal of Russian troops from all Ukrainian territory including Crimea.  
Pence additionally received an update on human rights violations and visited areas near Kyiv that saw gross human rights abuses in the early days of the war, including in Bucha, Irpin and Moschu, a Pence adviser told Fox News Digital. 
Read More: World News | Entertainment News | Celeb News