Turkey's defense ministry said on Thursday that a spate of attacks the previous day and overnight by Kurdish fighters in northern Iraq killed at least six Turkish soldiers.
The attacks prompted retaliatory airstrikes that left four members of the outlawed Kurdistan Workers' Party, or PKK, dead on Thursday, according to a social media post shared later by the ministry.
The violence is the latest in a monthslong escalation between Turkey and Turkish-backed groups on one side, and Kurdish fighters in Iraq and Syria on the other.
Ankara considers the PKK — which has waged a decadeslong insurgency within Turkey — and allied Kurdish groups in Syria and Iraq as terrorist organizations. It claims members of the PKK regularly find sanctuary in northern Iraq's semi-autonomous Kurdish region.
There was no immediate comment from Iraq's central government in Baghdad.
SYRIAN PRESIDENT ASSAD ACCUSES TURKEY OF FUELING VIOLENCE, CALLS FOR WITHDRAWAL OF TURKISH FORCES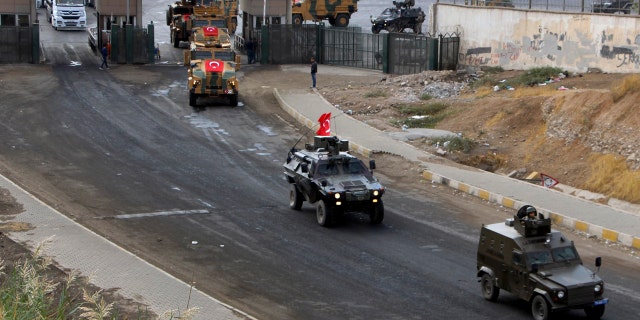 Earlier, authorities in northern Iraq's Kurdish region said two separate Turkish drone strikes on Wednesday in attacks in Iraq's Sulaymaniyah province targeting PKK vehicles killed two insurgents and wounded four.
Turkey maintains troops in a border region in Iraq and regularly targets what it says are PKK positions there. Last year, it launched a ground and air operation dubbed Claw-Lock, against the PKK in northern Iraq.
Iraqi security officials said Thursday's airstrikes hit positions north of the city of Duhok. The officials spoke on condition of anonymity because they were not authorities to speak to the media.
Turkish Col. Zeki Akturk vowed to avenge the troops killed.
"Our soldiers will not leave the blood of the martyrs on the ground," he said at a news conference on Thursday, adding that Turkish forces "will continue their fight against terrorism with the same determination until there is not a single terrorist left."
Since 1984, the PKK's insurgency within Turkey has killed tens of thousands of people.
Read More: World News | Entertainment News | Celeb News