San Diego Padres reliever Robert Suarez was ejected from Wednesday's game against the Miami Marlins without throwing a single pitch. 
Before any reliever gets the chance to pitch, umpires check for sticky substances. Umpires found something they deemed sticky on Suarez's person, and made him the fourth pitcher this season to be ejected due to a sticky substance. 
Suarez now faces a 10-game suspension from MLB because of the ejection.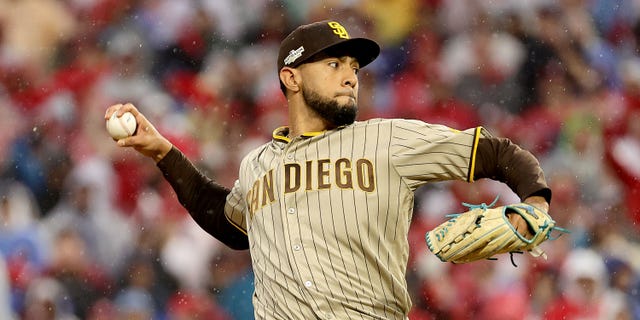 Crew chief Todd Tichenor explained Suarez's ejection after the game. 
"We were doing a routine spot check for a foreign substance," Tichenor said in a pool report. "He was observed to have a sticky substance on his glove-hand side. All four of us got together, and we deemed that it was too sticky — very sticky — and he was ejected from the game."  
However, Suarez was surprised by the ejection, and said he applied the normal amount of sunscreen he normally does for day games. 
ASTROS' JUSTIN VERLANDER TELLS RED SOX MANAGER TO 'F— OFF' IN BRIEF SPAT
"Like any day game, I put on some sunscreen, and that's what they saw," Suarez said through an interpreter, per MLB.com. "That's what led to their decision to eject me from the game. . . . I definitely don't use any illegal substance, any banned substance at all.
"It's just sunblock."
While sunscreen is not a banned substance by the league, the mixture of it with rosin can create a sticky substance that's used for better control and increased spin of pitches.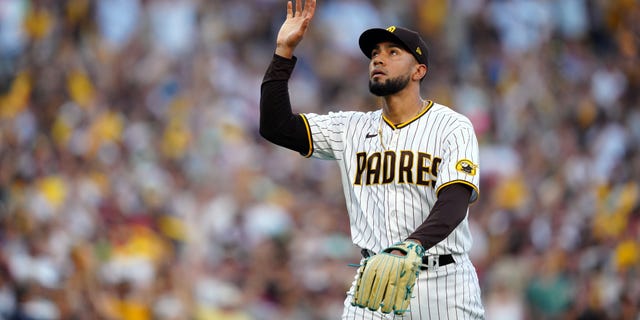 Tichenor admitted that the umpiring crew could not determine what substance Suarez had on his "general wrist area," but "it was probably more than rosin."
"I've been trained on that. But I couldn't tell you what it was," Tichenor added. 
RAYS TAKE DOWN SIGNAGE SHOWING WANDER FRANCO'S LIKENESS AMID MLB PROBE INTO ALLEGED RELATIONSHIP WITH MINORS
Max Scherzer, pitching for the New York Mets earlier this season, was the first of the 2023 campaign that was ejected because he was deemed to have too sticky of a substance on him despite getting a chance to wash his hands off. Fellow Met Drew Smith and New York Yankees starter Domingo German also were ejected for sticky substances. 
Suarez has the right to appeal his suspension, though he has not yet determined whether he'd like to do so.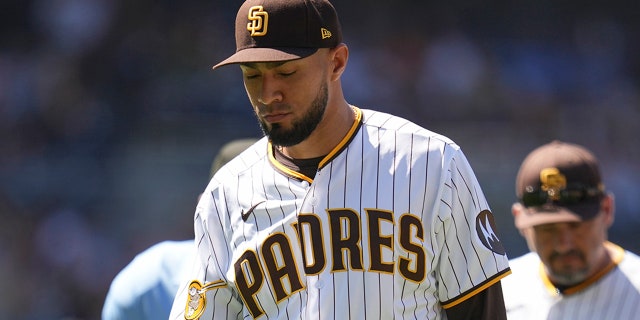 The 32-year-old Suarez owns a 4.73 ERA over 13 games (13.1 innings) so far this season. 
Read More: World News | Entertainment News | Celeb News