Runaway Formula One leader Max Verstappen won a rain-marred Dutch Grand Prix on Sunday to equal Sebastian Vettel's F1 record of nine straight victories, and increased his huge championship lead to 138 points as he races toward a third straight world title.
The Red Bull star clinched his third straight win from pole position at the Zandvoort track, with veteran Aston Martin driver Fernando Alonso of Spain finishing second and picking up a bonus point for the fastest lap.
"Nine in a row is something I never even thought about. Very happy with that," Verstappen said. "I know I have a car which is capable of a lot."
The orange-clad home crowd pumped him up.
"I already had goose bumps when they were playing the national anthem before the start. Even with all the bad weather and the rain the fans were still going at it, an incredible atmosphere," the Dutch driver said. "I'm going to enjoy this. It's always tough, the pressure is always on to perform."
Alpine driver Pierre Gasly crossed the line in fourth place behind Red Bull driver Sergio Perez, but the Frenchman moved up to third because Perez was given a five-second penalty for speeding in the pit lane.
For Gasly, who was given the same penalty earlier, it was a fourth career podium.
MAX VERSTAPPEN WINS HUNGARIAN GRAND PRIX TO GIVE RED BULL ITS 12TH STRAIGHT WIN
"I'm feeling so stoked, what a race," he said.
Perez ended up fourth ahead of Ferrari's Carlos Sainz Jr. and Mercedes driver Lewis Hamilton in sixth.
The chaotic race was held up for 40 minutes by a late red flag after Alfa Romeo's Zhou Guanyu crashed. It restarted with a rolling start on Lap 65 of 72, in a race that featured multiple tire swaps as changing weather conditions played havoc.
"There were so many rivers on the track it just becomes so dangerous," Verstappen said.
The race restarted with Verstappen ahead of Alonso, Perez and Gasly. After two laps behind the safety car, Verstappen comfortably pulled away for his 11th win of a dominant campaign to stretch his lead over Perez.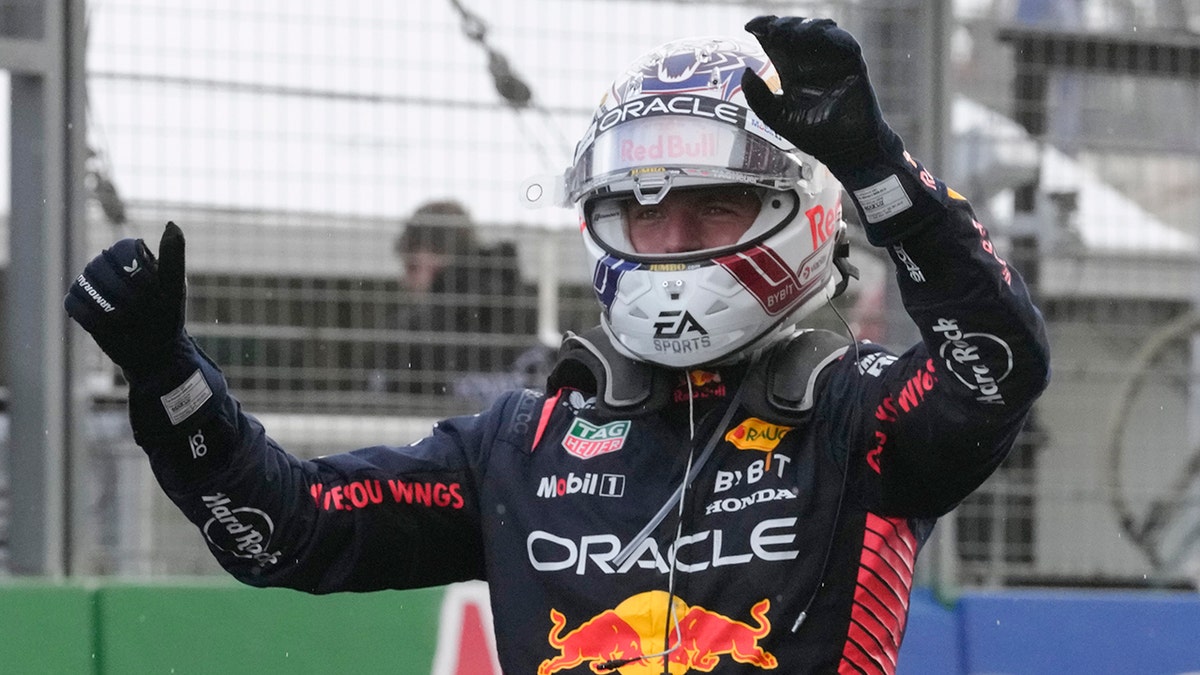 Vettel set the consecutive wins record in 2013 with Red Bull during its first dominant era — when he won four straight titles — and Verstappen's victory was a record-extending 14th straight for Red Bull dating back to last year's final race.
MAX VERSTAPPEN CONTINUES DOMINANT RUN WITH SIXTH STRAIGHT FORMULA ONE VICTORY AT BRITISH GRAND PRIX
"To match Sebastian, nine straight victories, to do it twice as a team is really incredible," said Red Bull team principal Christian Horner, who was also in charge during Vettel's golden era.
Verstappen also moved closer to his own F1 record of 15 wins set last year and onto 46 overall. Verstappen, who turns 26 next month, is already fifth all-time in wins. Alain Prost (51) and Vettel (53) are within his sights with nine races left.
It was another bad day for Ferrari, with Charles Leclerc retiring on Lap 44 due to floor damage. It was Leclerc's third DNF of the season, as many as all of last season, while Sainz still does not have a podium.
The 42-year-old Alonso is enjoying a resurgence and is confident of getting his 33rd career win at some point.
"We're getting closer," he said. "The car was flying, it was very competitive, very easy to drive. In these conditions you need a car that you can trust and I did trust the car today."
McLaren's Lando Norris finished seventh, while Alex Albon (Williams), Oscar Piastri (McLaren) and Esteban Ocon (Alpine) completed the top 10. It was a race to forget for Mercedes driver George Russell, who started third and finished 17th.
The start saw Verstappen get away cleanly from Norris and Alonso overtake Russell to jump into third. The rain fell heavily moments after, forcing several drivers to pit for the first of many tire changes.
Astonishingly, Ferrari did not have the new ones ready for Leclerc and the team didn't seem to notice he had a damaged front wing — yet another blunder in a series of mistakes from Ferrari this season and last.
Perez came in for his change a lap before Verstappen, who came out 10 seconds behind Perez but soon started shredding the gap. With the track drying, Verstappen came in for another change while Ferrari changed Leclerc's front wing. Perez came in on the following lap, this time, and emerged three seconds behind the new leader Verstappen.
Logan Sargeant started from 10th place — the highest spot on the grid for an American driver since 1993 — but crashed for the second time in as many days, bringing out the safety car on Lap 17 of 72 of the high-banking circuit.
"I don't know what happened, man" an exasperated Sargeant told his team.
Sargeant, who has not scored a point in his debut season and is fighting to save his seat, sat on a grass bank with his head down.
On the track, Verstappen held off Perez comfortably following the safety car restart, with Alonso in third. Perez was drifting further behind Verstappen while Leclerc rolled back to the garage.
He will hope his fortunes improve next weekend at Monza, Ferrari's home track where Verstappen can set a new F1 record if he wins.
It would be an appropriate place to do so, considering Vettel won his first race there in 2008.
Read More: World News | Entertainment News | Celeb News