The slumping New York Mets did their best to ensure team owner Steve Cohen had a good result before his planned state-of-the-team press conference.
Brandon Nimmo homered twice and David Peterson threw six scoreless innings in his return to the majors on Tuesday night as the Mets beat the Milwaukee Brewers 7-2, hours after Cohen announced plans to speak to the press Wednesday for the first time since opening day.
The Mets won for the third time in 10 games and for the sixth time in 22 games. New York has struggled to a 36-43 record. The Mets entered Tuesday's game 8 1/2 games back of the final NL wild-card spot.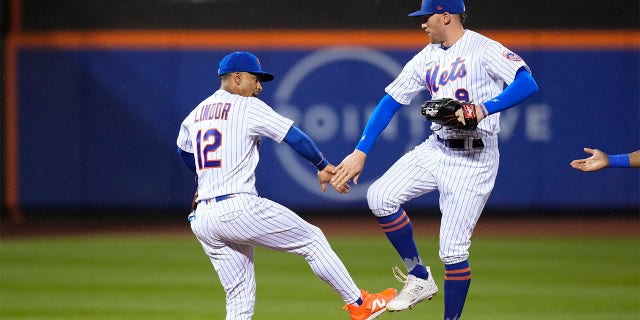 Cohen grabbed everyone's attention earlier Tuesday when he tweeted: "I will be doing a press conference tomorrow before the game. You will get it from me straight."
Hours later, general manager Billy Eppler — who built the team that began the season with a record $355 million payroll — held a rare press conference in the Mets' dugout before the game.
"We know we have all the pieces, it's just putting it together," Nimmo said. "Obviously, Billy put this team together for a reason. He believes in it and we believe in it as well. But we just need to put the pieces together this season.
"This is a great start, but by no means is this like all things are fixed."
The Mets, who were coming off a three-hit, 2-1 loss Monday night, started slowly again as Milwaukee's Julio Teheran (2-3) retired the first nine batters on just 34 pitches.
METS STAR SHOWS SUPPORT FOR BUCK SHOWALTER AMID STRUGGLES, SHUTS DOWN NOTION THAT HE'S LOST CLUBHOUSE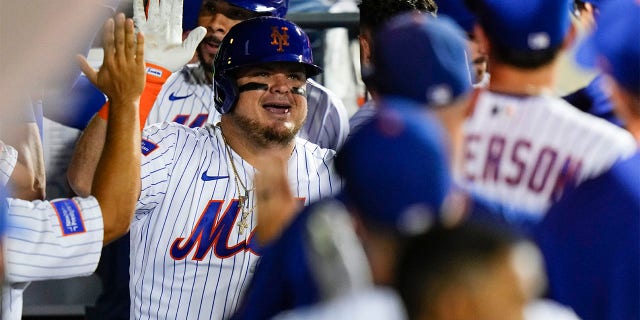 Nimmo opened the fourth with a 422-foot homer, the first of four by the Mets. Francisco Lindor hit his 200th career homer with one out and Nimmo hit a 396-foot, two-run homer just beyond the left-centerfield fence in the fifth. It was the third career multi-homer game for Nimmo.
Tommy Pham had an RBI double in the sixth, when Daniel Vogelbach hit a two-run homer.
"We keep looking for something that's going to allow us to gain some traction and some footing," Mets manager Buck Showalter said. "And really, it's going to take putting some extended good things together. But it's in our hands. I mean, there's nine innings every night — 27 outs that you hope to play better than they do."
Peterson (2-6), who had an 8.08 ERA before being demoted to Triple-A Syracuse on May 16, allowed eight baserunners — five hits and three walks — and induced a pair of double plays started by Lindor in his longest scoreless outing since he blanked Colorado over six innings last Aug. 27.
Lindor preserved the scoreless outing on Peterson's final pitch, when he ranged well to his right to rob Luis Urías of a hit.
PEPSI UNVEILS SODA-INFUSED KETCHUP THAT WILL BE AVAILABLE AT MLB GAMES ON FOURTH OF JULY
"Seemed like as the game went on, they wanted to get in the dugout and keep hitting," Peterson said. "Great team win."
Peterson struck out five and threw 110 pitches, the second-most by a Mets starter this year.
"We kind of let him off the hook and then he got in a groove," Brewers manager Craig Counsell said.
The Brewers' Brian Anderson ended the combined shutout bid with a two-run single in the eighth off Jeff Brigham.
Teheran gave up all seven runs in 5 2/3 innings — as many runs as he had allowed in his first six starts spanning 35 2/3 innings for the Brewers — since being signed on May 25 after he was released by the San Diego Padres.
"He's had six wonderful starts," Counsell said. "This one didn't go his way."
STREAK SNAPPED
The loss ended the Brewers' five-game winning streak against the Mets, dating to last Sept. 21. The streak against New York tied a franchise high set twice previously.
GUARDIANS MANAGER TERRY FRANCONA MISSES GAME AGAINST ROYALS DUE TO PRECAUTIONARY MEDICAL TESTING: REPORT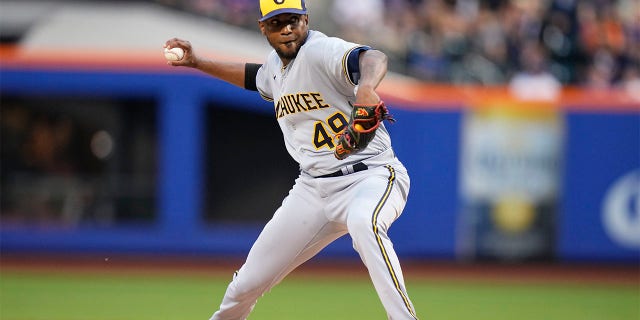 COHEN FEELS THE PAIN
Speaking during separate press conferences before the game, Showalter and Eppler said they have the support of Cohen, even if the team's struggles are wearing on the owner.
"He's frustrated — very competitive man, trust me, very competitive man," Showalter said. "He likes to win."
Cohen's tweet announcing his press conference was his first non-reply on Twitter since June 14, when the Mets beat the rival Yankees 4-3 in 10 innings and he wrote "That was a crazy game. Too many mental mistakes but I will take it."
"I think we're sharing a lot of the same emotions," Eppler said. "We talked this wintertime every day, too. So it's not different. But I think the feelings are different than this winter."
TRAINER'S ROOM
Mets: To make room for Peterson on the active roster, the Mets optioned RHP Vinny Nittoli to Triple-A Syracuse.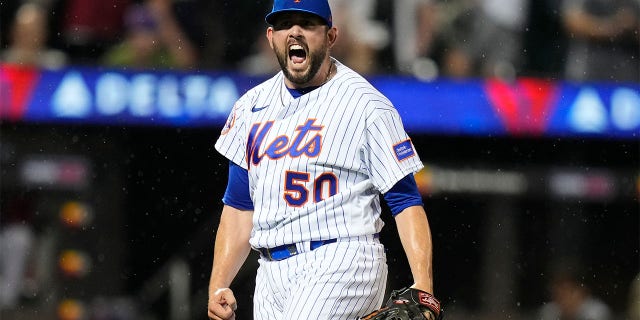 UP NEXT
Mets RHP Kodai Senga (6-5, 3.52 ERA) is slated to make his first start against the Brewers on Wednesday night. Milwaukee will counter with LHP Wade Miley (5-2, 2.91 ERA), who has thrown 11 scoreless innings in two starts since returning from the injured list.
Read More: World News | Entertainment News | Celeb News