Members of the China- and Russia-led BRICS economic bloc remain at odds about how to proceed with aggressive expansion and the establishment of a new currency as they meet for a summit in South Africa.
"While at this point, the effort is largely aspirational, Washington cannot ignore this movement because it is increasingly gaining traction," Rebekah Koffler, president of Doctrine & Strategy Consulting and a former Defense Intelligence Agency officer, told Fox News Digital.
"It's not going to happen this year or next, but unless Washington takes it seriously and restores global confidence in the U.S. dollar, stops using it as a weapon of economic warfare rather than as intended for economic, not political purposes, it will happen gradually," she added.
Russian President Vladimir Putin has abstained from attending the summit due to concerns that he would face arrest by the International Criminal Court over alleged child abduction crimes related to the invasion of Ukraine, but the meeting has plenty of drama to occupy itself otherwise.
US COMMERCE SECRETARY SET TO MEET WITH CHINESE OFFICIALS IN EFFORT TO STABILIZE RELATIONS
The BRICS bloc, which is named for its members, Brazil, Russia, India, China and South Africa, started out with all but South Africa in 2001, adding its fifth member in 2010. The group made headlines before its summit in Johannesburg when it announced that the members had considered another, wider membership expansion.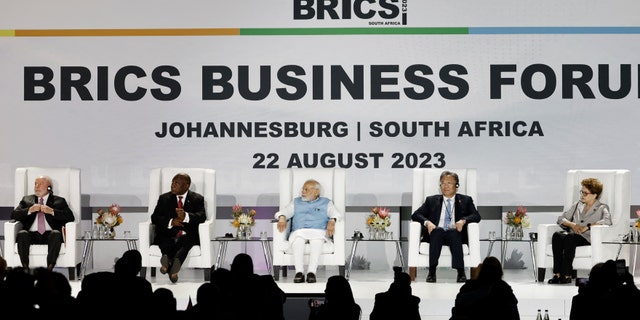 Additionally, the group has discussed a new internal currency akin to the Euro that its members could use in trades and exchanges, which some experts fear would create a strong rival to the U.S. dollar.
The plans do not appear to have universal support: BRICS on Monday approved a plan for New Development Bank (NDB) to provide the first Indian rupee bond by October, with some members looking to improve local currency strength before discussing any kind of shared currency, Reuters reported.
AFRICAN PRESIDENT WARNS OF 'OPPORTUNITY' FOR RUSSIA AS POLITICAL UNREST CONTINUES
The bloc established the NDB as part of its efforts to pry economic superiority away from the West. Initially, the bank would have facilitated members to utilize funds from other members for local projects, such as using the Chinese yuan to fund South African construction projects.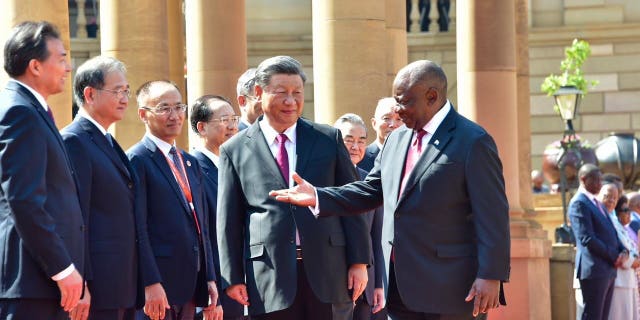 Members have also resisted the expansion plans, accusing China of pushing the plan forward with the intent to bring in countries that would best serve its personal interests.
India has pushed a rival plan that would focus on bringing developing nations into the bloc and seek discourse with the G-7 to reform international economic and financial systems, according to The Atlantic Council.
US, JAPAN, AUSTRALIA TO CONDUCT JOINT MILITARY DRILLS IN DISPUTED SOUTH CHINA SEA: REPORT
"Led by Russia and China, the BRICS was founded with the primary mission of replacing Western-built and dominated financial architecture with an alternative, non-Western one and to counter U.S. and Western geopolitical influence," Koffler said.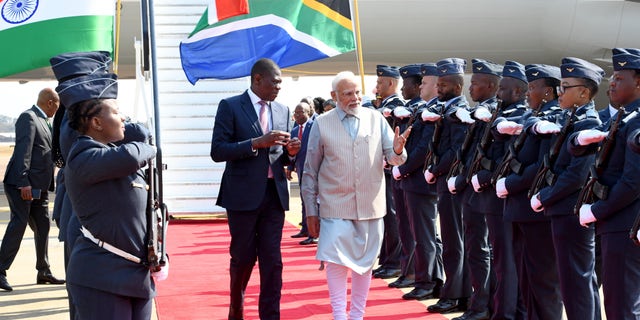 Koffler argued that the plans to create a BRICS currency arose from frustration with the U.S. weaponizing its currency to punish countries it disagreed with or opposed politically.
"Declining demand for the U.S. dollar will have broad ramifications on the U.S. economy and all of us, Americans," she said.
"Higher prices on everything we import from other countries: higher taxes, higher inflation, higher rates on loans, unemployment, you name it," she added, saying that "Russia and China's propaganda is precipitating this trend."
Overall, around 1,200 delegates from the five BRICS nations and dozens of other developing countries are expected in Johannesburg, including more than 40 heads of state, according to South African President Cyril Ramaphosa.
Other heads of state attending the summit includes Chinese President Xi Jinping, Brazilian President Luiz Inacio Lula da Silva, Indian Prime Minister Narendra Modi, Saudi Foreign Minister Prince Faisal bin Farhan and Iranian President Ebrahim Raisi.
The Associated Press contributed to this report.
Read More: World News | Entertainment News | Celeb News