Thousands of followers of a firebrand Iraqi Shiite cleric rallied in major cities in Iraq on Friday, condemning the burning of a Quran during a protest in Sweden earlier this week. Some of the demonstrators called for expulsion of the Swedish ambassador from Iraq.
At the rallies in the capital of Baghdad and the southern city of Basra, followers of Muqtada al-Sadr, a cleric with a large grassroots following and political leader, burned Swedish flags and rainbow LGBTQ+ pride flags and chanted ""Yes, yes to Islam" and "No, no to the devil."
Addressing the crowds in a speech in the Baghdad suburb of Sadr City, Friday prayers preacher Sayyid Sattar Batat, called on Iraqi authorities to "if necessary, expel the Swedish ambassador and cut all diplomatic relations with them."
FRANCE WILL DEPLOY 40,000 OFFICERS TO CRACK DOWN ON RIOTS AFTER DEADLY POLICE SHOOTING
The protests came a day after hundreds of protesters briefly stormed the Swedish Embassy in Baghdad.
On Wednesday, a man who identified himself in Swedish media as a refugee from Iraq burned a Quran outside a mosque in central Stockholm.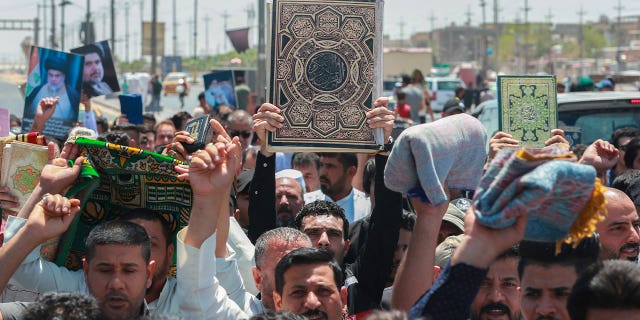 An Iraqi security official said the man was an Iraqi Christian who had previously fought in a Christian unit of the Popular Mobilization Forces, a collection of mostly Shiite militias that were incorporated into the country's armed forces in 2016.
Swedish police had authorized the protest, citing freedom of speech, after a previous decision to ban a similar protest was overturned by a Swedish court.
The act, coming during the major Muslim holiday of Eid al-Adha, drew widespread condemnation in the Muslim world. Turkish President Recep Tayyip Erdogan on Thursday suggested that the incident would pose another obstacle to Sweden's bid for NATO membership.
Iraqi officials have called on Sweden to extradite the man who had burned the Quran for prosecution in Iraq.
Read More: World News | Entertainment News | Celeb News