Canadian wildfires will send worsening smoky air across the country and neighboring United States in coming days after recent heavy rains in Quebec missed the places where the fires are most active, officials said Wednesday.
Smoke from the wildfires has lowered curtains of haze on broad swaths of Canada and the United States, pushing into southern Illinois, Indiana and Ohio, and moving into parts of West Virginia.
Canadian officials say it is the nation's worst wildfire season ever and they expect air quality to remain a concern through the summer, as long as the fires continue.
120 MILLION UNDER AIR QUALITY ALERTS AS WILDFIRE SMOKE HEADS EAST, SMOTHERS CITIES FROM NEW YORK TO SOUTHEAST
It started early on drier-than-usual ground and accelerated very quickly, exhausting firefighting resources across the country, fire and environmental officials said.
Environment and Climate Change Canada Meteorologist Steven Flisfeder said smoke will drift across Quebec and Ontario over the next few days, and that air quality will deteriorate as a result.
"As long as the fires are burning and the smoke is in the atmosphere it is going to be a concern not just for Canadians but Americans as well," Flisfeder said.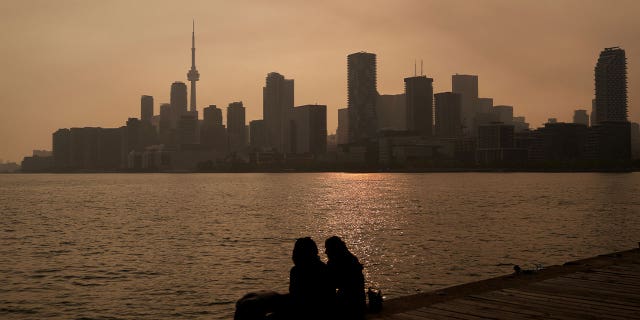 Flisfeder said the smoky, hazy skies will persist unless rainfall provides sufficient help to firefighters in controlling the blazes. "It's important to note that the highest amounts of rain were not received in those areas where most active forest fires are," Flisfeder said.
The Detroit area woke up Wednesday to some of the worst air quality in the United States as smoke from Canada's wildfires settled over most of the Great Lakes region and unhealthy haze spread southward, as far as Missouri and Kentucky.
SEVERE WEATHER SHIFTS CANADIAN WILDFIRE SMOKE EASTWARD, FORCING AIR QUALITY ALERTS
Meanwhile, NASA is reporting that smoke from wildfires in northern Quebec has reached Europe. The American space agency said satellite imagery from Monday showed smoke extending across the North Atlantic Ocean to the Iberian Peninsula, France and other parts of western Europe.
There are 490 fires burning nationally, with 255 of them considered to be out of control. Quebec's forest fire prevention agency is reporting 110 active fires.
Canada has already surpassed the record for area burned. Nearly every province in Canada has fires burning. A record 30,000 square miles of Canada has burned, an area nearly as large as South Carolina, according to the Canadian government.
"This season has been unprecedented," Flisfeder said.
Ontario's chief medical officer Dr. Kieran Moore suggested people get into the daily habit of checking air quality this summer.
"That's our new normal now is to be looking at all of those parameters," Moore said.
The hazy skies and acrid air were obvious in Canada's largest city of Toronto, where child care centers and the school board suspended outdoor activities.
Almost 1,200 vulnerable people from Cree communities are among the evacuees who have fled northern Quebec because of wildfires and smoke. Dr. François Prévost of the Cree health board said the evacuation process has gone relatively well, but he adds that the situation poses particular health, logistical and cultural challenges.
Read More: World News | Entertainment News | Celeb News